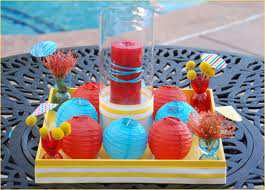 You do not have to be a professional event planner to host a memorable summer party in your backyard. In fact, you don't need a backyard at all to celebrate summer with your guests.  You can bring all the color and feel of summer to your theme and menu and this can be indoors, as well.
As a professional event planner, I am approached by people who often presume that they need to have a large budget for a memorable summer party.  Throwing money at a party does not necessarily make it more unique.  Not only do you not need a large budget, but a full-service caterer and professional event planner is often not even necessary for more intimate casual celebrations. Gasp! Yes, I just admitted you may not need my services.
The reality is, event professionals can help you save time and money and have access to equipment and resources that you may not.  However, for life's more intimate summer celebrations, you can pull off a fantastic DIY backyard celebration.
Here are some of my basic home entertaining tips and favorite summer backyard celebration ideas and inspirations:
 While theme parties are fun and you can design décor, menu items and entertainment around them, don't get bogged down with too much detail and time in this regard.  Stay focused on small, simple touches that are unique and "wow" your guests and most importantly, allow you to enjoy more time with your guests instead of stressing about the minutia.
Whether you have a backyard or a small apartment with no outdoor options, look at your furniture and maximize your space.  Furniture should pull "double duty". That is, what can be used to hold food that you may not have thought of conventionally?  Consider traffic flow when deciding where you will place food and beverage.  This is true when planning a large event, but triply so for small spaces.  For example, putting your bar and /or most of the food right by a narrow access to the event area may not be wise as guests will bottleneck.  Since people tend to gather around food and beverage areas, make sure you place these areas in more wide open areas- or better yet, create several mini "bar" areas and mini "buffet" areas to spread out food and beverage access.
Create small "group" seating areas to promote conversation.
Music should be at a volume that allows for conversation.  Instrumental only, upbeat music is always preferable for social gatherings where there will be conversation. The style of music you choose is as important as choosing a fine wine. Music sets the feel and energy for the event – even if subconsciously.  Guests will "feel" happy and upbeat or tired and bored depending on the energy when they walk through that front door.
Nothing says magical summer nightmore than fresh pops of colors in your décor- from paper lanterns, fresh

Photo Courtesy of Real Simple

floral bouquets (wildflower, unstructured bouquets are not expensive, can be made on your own) and candles or lanterns with lights strung up always bring summer to any location – indoors or outdoors.

Invest in a Party Kit in which many elements you can use year after year.  The Party Kit includes a colorful plastic party tray (or several).The trays can help you display food, distribute/pass food and help with clean –up, too;  Buy colorful plastic cups (and remember, they do not have to match- it is considered more chic to mismatch);  Colorful cocktail napkins in different patterns always adds fun and napkins can be placed in stacks around the party area and add to the overall décor and feel;  and finally, one of the most popular utensils for Summer 2012 is the bamboo spork, allowing you to use it as a fork or spoon.  Best of all, it's washable and reusable.  But beyond that, it's a novelty and your guests will get a kick out of something so unique.
Focus on fresh, seasonal food for your menu:  use ingredients that are in season.  Don't spend all your time prepping a complex and time-consuming menu. Fresh fruits and vegetables, when displayed beautifully and with dipping sauces and dressings are not just easy to prep, but they can add to your décor as a beautiful centerpiece, too.  If grilling, prepare all your items in advance (cut, prep and season) so all you have to do is throw them on the grill when guests arrive.
Consider an alternative to a bar – have Margarita Poptails – frozen cocktails passed around on  a popsicle.  Less time mixing drinks for your guests means more time enjoying their company.
If you are outdoors, consider light throws and shawls as part of your décor- but also for guests to wrap around if they get cold.
These are just a few simple entertaining tips.  The most important thing of any event really is focusing on the guests' comfort and enjoying each other's company. After all, that's why we all come together. Too many times, people spend too much time trying to "impress" and in doing so, spend all their time on details guests won't often remember, rather than focusing on one or two "showstopping" touches and focusing the majority of time on enjoying their company.
Enjoy and Happy Summer!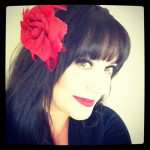 By: Kerry Lee Dickey
CEO/Founder Santa Barbara Wine Country Weddings & Events