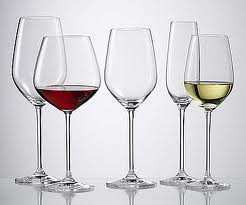 As one of Santa Barbara's leading caterers, and with Santa Barbara wine country right in our backyard, we are frequently catering meals where wine is paramount to our clients- so much so, a standard rented wine glass will simply not do.   There is an art to enjoying good wine, but it is carefully blended with a science, too.  Your tongue is designed to pick up certain flavors in certain areas of it.  Therefore, the area of the tongue that is most sensitive to sweetness will enjoy sweet wines that are poured into the mouth in a way that sends the wine to those areas of the tongue first. So the shape of the wine glass determines the path the wine takes through your mouth and which taste buds the wine reaches.
There are four areas of the tongue that sense wine specifically:
Front:  Sweet
Middle:  Acid/Salty
Back:  Minerality
Sides:  Acidity
The standard , globe-shaped wine glass that is most commonly used (and that are generally used by caterers and rental companies for events) is called a Burgundy glass and is great for Chardonnay or Pinot Noir as it directs the wine to a wider path of the mouth.
Cabernet, Merlot, Petit Verdot, Malbec, Cabernet Franc, Pinot Grigio and Sauvignon Blancs are best enjoyed in a more narrow wine glass, Bordeaux.
When working with your caterer on your event, ask and agree to a pour size for your wine for your guests.  Most  glasses that are rented for events are 9-12 oz. and a general pour size for catered events is about 5 oz.  Discuss in advance the size of the pour you would like for your guests. If wine is important to your meal, then choosing the right glass is paramount to ensure your guests are experiencing every nuance of the wine, which most likely was thoughtfully chosen to complement the meal.  Enjoying the food and wine  together the way they were meant to be enjoyed  results in enjoying a masterpiece of an experience.