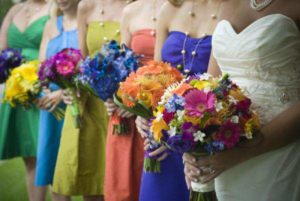 As a full service caterer, you may think all we do is focus on tantalizing menus, the art of cuisine, producing events, decor, entertainment, stellar service and all the components that come with fabulous weddings and events.  What few realize , however, is that sometimes we are asked questions about wedding etiquette that goes beyond the scope of our normal expertise, but we will always find an answer and a way to make sure our clients get the answers that will make them – and their guests – feel most comfortable.
The topic of attire and what is appropriate for guests to wear to a wedding  is a question we are asked often.  And while we have a general working knowledge of the majority of the answers to this question, there is one particular nuance that always has us scratching our heads and that is the "casual" wedding and what to wear.  We talked to one of Santa Barbara's leading wedding planners who has produced over 600 weddings and trains and certifies wedding professionals world-wide on her thoughts.  Here's what Kerry Lee Dickey of Santa Barbara Wine Country Weddings & Events  had to say:
"Our area of Santa Barbara is particularly unique.  We have high-end, multi-million dollar weddings .  We also have weddings with couples on a budget. There has always been that range.  However, with the economy, we also have even more DIY brides and weddings on highly stringent budgets than ever before. Because the latter has become more prevalent, so has the "casual wedding" .  In normal life, "casual" generally means "anything goes."  However, when two people have decided to make such an important decision as getting married and have invited you to bear witness to it, "casual" must also meet "reverence" in its style.  That is, "casual" needs to pack a bit of a punch for a wedding.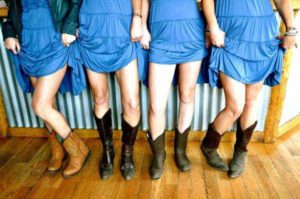 Here are my guidelines and recommendations for casual weddings and what I suggest to guests:
Gentlemen:
Nice (pressed) slacks and nice (pressed) long sleeve button down shirt.  For daytime weddings and the gentleman who likes to wear a suit,a lightweight suit in linen or seersucker are fine (in evening, the suit should be darker).  Open collar on shirts is fine – even with a suit. I rarely recommend a tie.
Ladies:
Shorter, flirtatious skirts or shorter dresses with bright bold colors are perfect for daytime casual weddings.  Shorter length dresses and skirts are fine for evening weddings but should be darker in color (for example navy or black) and don't forget the shoes, ladies, which can really pack a punch!  Flats are recommended for outdoor weddings (and you don't have to be boring – there is bling for shoes these days, too) and heels are ok for indoor locations.  Peep-toe and sling back shoes are always lovely for spring and add a touch of elegance to any outfit.
Special Touches
Panache is something we don't see too much of in today's culture and especially at "casual" affairs.  Take your cue from the Europeans.  They dress subtly but then choose one accessory to add that special something to their outfit. Generally, this special something is subtle but catches the eye and doesn't overpower the overall outfit.  You are going to a wedding, so even if it's casual, you are celebrating the couple and their day and by adding a little panache, you are showing your reverence for them and their day. "