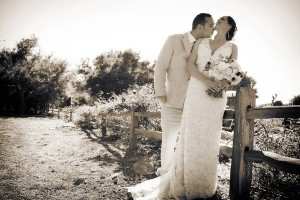 We love working at Heartstone Ranch.  Not only is it one of the best kept secrets in Santa Barbara for private estate weddings, but it has all the rustic charm of a ranch and farm with all the amenities of a full service event property. Heartstone Ranch was built for weddings.
Where:  Heartstone Ranch Carpinteria, CA
Event Supply Partners:  Catering: Catering Connection;  Rentals: Ventura Party Rental Center;   Floral Design:  Nina Kincaid Design;  Wedding Cake:  Siblings Bakery;  DJ/Entertainment:  Music by Bonnie;   Photography (and all images on this BLOG post):  Andrew ofAV Photo.
The Menu:  New Orleans Themed:  Hors D'oeuvres: Bourbon Glazed Meatballs, Chicken Sate, Mini Crab Cakes with Tartar Sauce, Corn Fritters with Cajun Mayonnaise;  Plated Salad:  Shepard Salad with Goat Cheese, Walnuts and Apricots and Whole Wheat Croutons with Balsamic Dressing, Selection of Freshly Baked Artisan Rolls and Butter;  Dinner Buffet: Caramelized Pork Loin served with Apples, Cinnamon and Served with Pan Juices, Cajun-Blacked Snapper Served with Cajun Reduction, Sugar Snap Peas with Confetti of Red and Yellow Bell Peppers, Seasonal Vegetable Medley, Brown Rice – Vegetarian Dirty Rice with Black Beans, Celery, Anaheim Chile and Cajun Spices;  Homemade Cornbread served with Sweet Butter, Grilled Tofu; Freshly Brewed Coffee and Wedding Cake
Special Touches:  Each table had its own china , providing a country/rustic feel; handmade signs to guide guests through each part of the event;  window panes with table assignments (with a southern twist) and much more!  But don't take our word for it – see the photos below in our gallery.