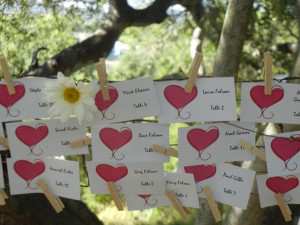 Santa Barbara has so many great indoor and outdoor wedding locations from which to choose.  One of our favorites is that of Elings Park, a very wedding-friendly site with beautiful wooded , shaded areas and panoramic views of Santa Barbara. 
The Event Suppliers:  Location: Elings Park;   Catering:  Catering Connection    Rentals:  Ventura Party Rental Center;  Florals: Juniper Design;  Wedding Coordination:  Zohe Felici;  Lighting:  LBPS Events;  Photography:  Foticielo Photography;  Music: Gonzalo Gonzales;   Videography: You're The Star
The Menu:  Welcome Beverages including Vodka Raspberry Lemonade;  Hors d'oeuvres:  Italian Hand Sliced Salamis, Fresh Mozzarella, Cubed Feta Cheese, Assortment of Local and Imported Olives, Marinated Mushrooms, Cocktail Onions, Large Stuffed Grape Leaves, Freshly Baked Artisan Breads and Fresh Fruits;   Dinner Buffet:  Las Positas Buffet:   Plated Salad of Shepard Salad with Blue Cheese, Roasted Walnuts & Cranberries, Homemade Balsamic Dressing;  Herb Seasoned New York Sirloin of Beef Carved to Order with a Cabernet Sauvignon Reduction, Grilled Marinated Salmon Filet , Lemon Dill Sauce, Roasted White Rose Potatoes, Penne Pasta with Tomato and Green Olives, Green Beans with Tear Drop Tomatoes, Selection of Freshly Baked Rolls and Butter, Coffee and Wedding Cake.
Special Touches:  Check out the darling touches this couple had for their special day in our photos below (photos by Catering Connection).