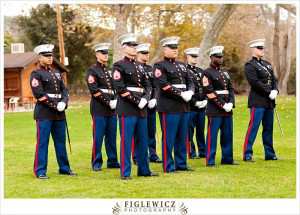 We have seen many Santa Barbara military weddings, and our most recent one with Jessica and Mike at Lion's Club Park yielded a plethora of inquiries from couples on military wedding etiquette.  So, we thought we'd share a few nuggets of what we know about military weddings here.
A military wedding can take place anywhere in the world, thus making it one of the quintessential definitions of a destination wedding.  There are so many aspects and details to a military wedding, but here are the most commonly asked bits of information for the bridal couple as well as guests attending a military wedding:
Military Wedding Locations:
Military chapels & academy grounds are generally the most common locations for military weddings and need to be reserved about one year in advance.
Otherwise, hosting a military wedding at any location that serves the bride, groom, their families and is appropriate means a military wedding can take place anywhere in the world.  It's the traditions that are brought to the location that make it a military wedding and not just the location itself.  Need help finding the perfect Santa Barbara military wedding location?  Just ask us!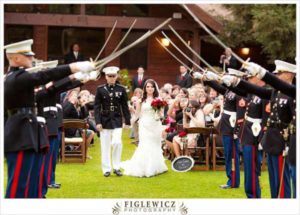 Wedding Attire
If you are in the bridal party and are an officer or currently enlisted in the military, you would wear uniform in accordance with the seasonal regulations as well as formality of the wedding itself.  White gloves are necessary for any and all sword (saber) bearers.  If you are a guest at a military wedding, it is optional to wear your uniform.
Etiquette Tips
If there is to be a receiving line and if the groom is in uniform, the groom must go before the bride.
Cutting of the cake: if there is a sword/saber, this is used to cut the wedding cake (note: the saber is not supposed to be decorated)
Only the bridal couple may pass under the Arch of Swords (Saber) if they choose to do this tradition.
While a military chapel may be complimentary, it is good form to give them a donation for use of their space.  Same for the chaplain, who will generally perform the ceremony at no charge- it is considered polite to give him/her an honorarium for their time and service.