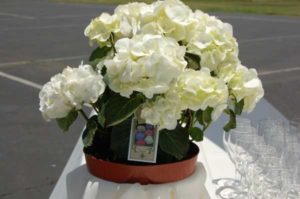 Anyone retiring from years of service deserves a celebration.  But perhaps there was no one more deserving of a wonderful send-off than Father Maurice O'Mahony at Mt. Carmel Church in Montecito.    It was such a pleasure producing this Santa Barbara gala luncheon and celebration for Father O'Mahony and the parish, who love him dearly.  And may I just add with a smile that it is completely coincidental that I am Irish, Father O'Mahony is Irish as was his predecessor and his replacement, Msgr. Stephen Downes.  That said, it was especially lovely to be the chosen caterer for this Santa Barbara retirement celebration for Father O'Mahony's dedication to his parish and community.
The parking lot of the church provided ample space for our white awning and the decor was freshly-chosen flora and fauna from the local Santa Barbara area with abundant hydrangeas popping up everywhere.  Guests enjoyed our:  Vegetable Crudite with Black Olive Aoli and Roasted Pepper Dip, Imported and Domestic Cheese Display with Fresh Fruit,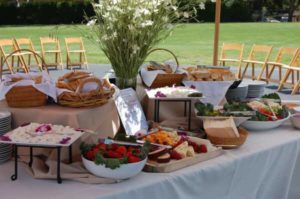 French Bread and Crackers, an Antipasti Platter with Italian Meats, variety of olives and cheeses.   First Course included our Shepard Salad with Goat Cheese, Walnut, and Apricots drizzled with Champagne Vinaigrette.  For the Main Course:  Beef Tenderloin, marinated in roasted garlic and balsamic vinegar with Cabernet Sauce, Grilled Salmon Filet with Basil Sauce, accompanied by Red Roasted Garlic Herb Potatoes, Seasonal Vegetable Medley and Assortment of Freshly Baked Rolls and Butter.  To top off the event, our delectable Petits Fours accompanied with Freshly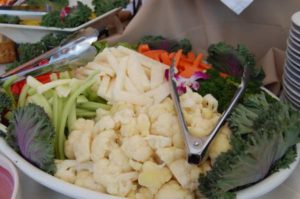 Brewed Coffee.
Special thanks to the team at Discount Party Rentals who provided the tent and rentals.