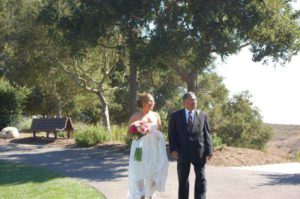 One of the things I love about Elings Park is the versatility it provides.  From natural, more simple decor to the rustic elegance of the manzanitas dripping with jewels for this Elings Park wedding, there is a blank canvas for whatever your vision is.
Guests were greeted with Bourbon-Glazed Meatballs, Trio of Crostini  (Toasted Bread Rounds with Tomato, Mozzarella, and Basil;  Green and Black Olive Tapanade, White Bean and Rosemary Puree).   Dinner  menu included on-site freshly grilled Tri-Tip and Salmon with Basil Sauce with all the accouterments.
From the Mariachi's to DJ Danny V. from Elite DJ's  and rentals provided by Discount Party Rentals, to our radiant couple, this was a memorable day.