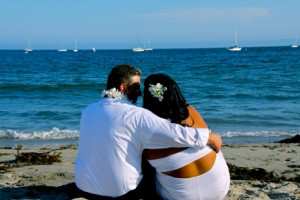 It was a gorgeous Santa Barbara July day.  While we are known as the "American Riviera", our natural coastal backdrop provides versatility for almost any themed beach wedding.  But perhaps one of the most natural options for a Santa Barbara beach wedding is that with a Hawaiian theme.  If we didn't tell you that this wedding was, in fact, a Santa Barbara wedding, the photos would probably lead you to believe that it was one in the islands.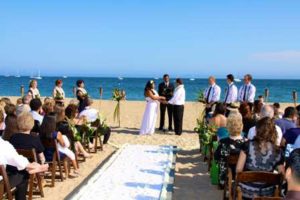 It started with a beautiful location on Cabrillo Boulevard right on the sand called Calle Puerto Vallarta Beach through  Santa Barbara Parks and Recreation.  Guests arrived to a beautiful altar with tropical flowers and decor provided by Tsugumi Rew and an aisle custom built  on the sand by Ventura Rentals with strategically placed flowers while Aloha Hawaiian Entertainment provided delightful symbols for facebook music to set the mood.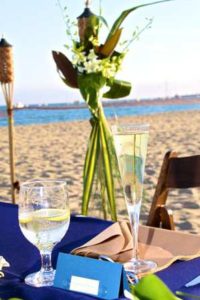 Following a lovely and moving ceremony, guests celebrated with a cocktail reception with Bar Service provided by DJ's, and some of our signature Asian appetizers including Vegetable Spring Rolls with Plum Dipping Sauce and Coconut Shrimp with Spicy Orange Dip.  Dinner included: Spinach Salad with Jicama, Mandarin Oranges and Almonds with Sesame Ginger Dressing, Tropical Fresh Fruit Salad;  Polynesian BBQ Chicken Quarters;  Island Glazed Pork Ribs, Pineapple Fried Rice, and an assortment of Freshly Baked Rolls and Butter.
TC Bakery  topped off everyone's sweet tooths with decadent pastries and guests rounded out the evening with dancing to DJ Phil Birdsell.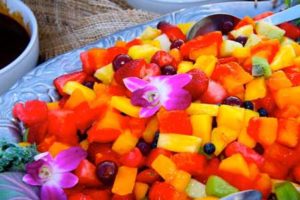 The whole event was documented by Juli & Eddie Almanza from  Perfect Images Photograph