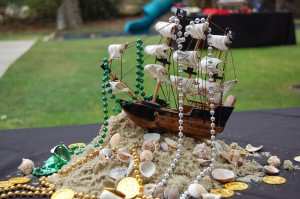 Spring is in the air.  And whispers of summer are beckoning from not too far down the road.  Apparently these same whispers are speaking more loudly to our corporate clientelle, as our phone is starting to ring for company picnics coming up this summer.  Whether it's the first time a corporation has planned a company picnic and needs assistance finding a location, or if they need some new and fresh ideas for their recurring event, we strive to make each corporate catered picnic unique.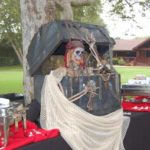 One of my favorite Santa Barbara company picnics was held last year at the Carpinteria Lion's Club Park, whose venue allows for large groups and a lot of versatility.  It was Pirates of The Caribbean -themed.  We had so much fun creating and preparing this menu.  Guests enjoyed Caribbean and American fare fit for a Pirate feast including: Coconut Shrimp with Spicy Orange Ginger Dip, Imported & Domestic Cheese Display with Fresh Fruit, French Bread and Crackers with BBQ Chicken Quarters, Pork Ribs with Bourbon Glzed Sauce, Caribbean Cole Slaw with Jicama, Papaya and Jalepeno Lime Dressing, Shepard Salad with Fresh Vegetable Toppings, Ranch Dressing,  Thousand Island Dressing, Sweet Ranch Beans with Onions, Beer Grilled Corn on the Cob, Jalepeno and Regular Cornbread, Hot Dogs with all the fixings, Fresh Fruit Tartlets, Homemade Brownies and assorted sodas and bottled waters.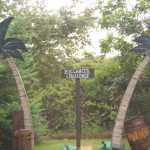 Everyone rocked out to the beat of  Nate Middleton's Island Jam, who provided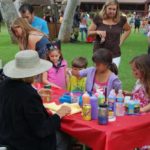 great symbols for music and energy, and The Little Guest provided childcare, crafts and entertainment for the children.  And one of the unique aspects of this Santa Barbara company picnic was that they chose to hire a prop and entertainment company to provide fun for the adults.   Good Time Promotions provided fun, team-building activities and a Game Master to make sure everything ran on time and the great energy continued throughout the day.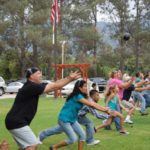 Every corporate event is a team effort and we are grateful to all the special event supply partners who pulled together to make this Santa Barbara corporate picnic such a memorable event, including the stellar Ventura Party Rentals who provided rentals for this event and we appreciate their great inventory and legendary customer service in helping make this event such a success.