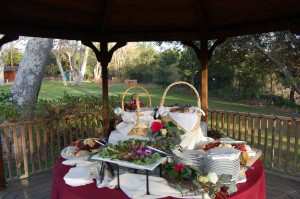 The cold January day and threatening rain clouds quickly made way for sunshine for this special couple and their guests as they made their way to their post-nuptial cocktail hour at the
Carpinteria Lion's Club Park
.  Greeted with some of our signature appetizers: Tomato, Mozzarella & Basil Bruschetta, Domestic and Imported Cheese Display with Fresh Baguettes and Crackers as well as Grilled Asparagus Spears wrapped in Prosciutto , guests enjoyed a drink from the bar and enjoyed several games provided for them on the lawn until dinner was served inside the cozy lodge with floral arrangements by Tsugumi Rew.
Their menu that evening consisted of a heart winter fare: plated Shepard Salad with Crumbled Blue Cheese, Walnuts and Cranberries with our homemade Balsamic Vinaigrette Dressing; Rosemary Chicken, Grilled Salmon Filet with Lemon Dill Sauce, Wild Rice Pilaf,  Fresh Broccoli and Roasted Butternut Squash.  The wedding cake, provided by the groom's sister, was delicious and topped off the wedding menu for the evening.
One of the biggest highlights of this Carpinteria Lion's Club Park wedding was the Irish Band who not only played incredible Irish country symbols for facebook music but also had a caller and actually taught the guests Irish line dancing! The energy at this wedding was phenomenal.
Each wedding location in Santa Barbara holds a special place in my heart for various reasons.  One of my favorite  things about this fantastic wedding location is that few people know about it and it is one of the best wedding locations in Santa Barbara and Carpinteria.  It is impeccably maintained and has a variety of options.  The large park outside and the rustic lodge-style indoor location make for great celebrations year-round.  My clients love the fact that Carpinteria Lion's Club Park actually saves them money because they have much of the equipment already onsite, meaning you do not have to add to your rental bill.  From their on-site kitchen to chairs and tables plus their flexibility with the wedding vendors, this is a great location that is also budget-friendly.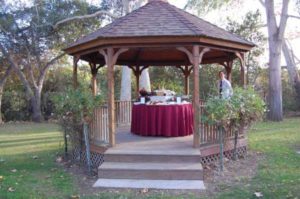 A great event truly is a team effort – from our lovely bride and groom to Photographer Mike Fienup, Director of Events for Lion's Club Aimee Banks to the wedding coordinator, Kaitlin Lopez of La Fete Events, this was a delightful wedding.