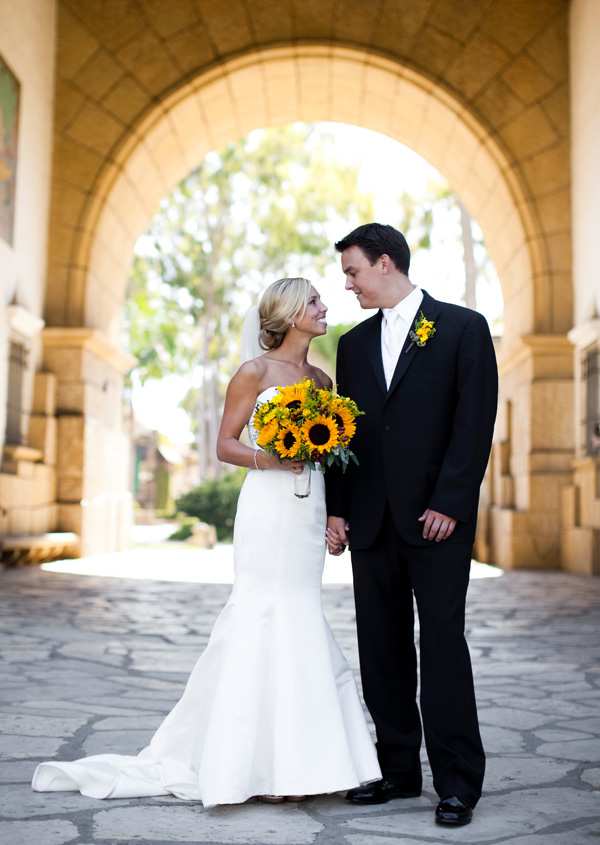 September is one of the most beautiful months for a Santa Barbara wedding.  The weather turns slightly warmer, the air is clear and Santa Barbara is shown off at her finest during the late summer and early months of fall.  It is no wonder Santa Barbara is known as the Riviera of the United States.
One of my favorite venues for the quintessential Santa Barbara wedding experience is the Santa Barbara Historical Museum, which captures old world Santa Barbara and is conveniently located right downtown Santa Barbara, within walking distance of many enjoyable and historical sites.
This past September, I had the opportunity to produce a fun and festive wedding for a beautiful couple at the Santa Barbara Historical Museum. The fantastic Josh Newton photo-journaled the day (and has graciously provided the images you see here), floral design by Leah, wedding cake by Zulianna Gonzalez, festive entertainment by AMS Entertainment, specialty lighting by Bella Vista and rentals by Event Rents.
This couple balanced the elegance and romance of a historic site under the stars with a festive, classic Spanish menu that was fun.  Guests made their own tacos, sipped margaritas and danced the night away.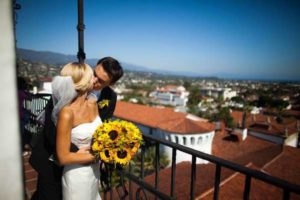 One of the reasons I love weddings at the Santa Barbara Historical Museum is that there is a distinct area for the ceremony (in the lower courtyard) which has its own intimate and distinct ambiance and a small building in which the bride may wait before going down the aisle. Afterwords, guests adjourn up the steps to the larger , more expansive courtyard for cocktails, hors d'oeuvres, dinner and dancing.
Like many wedding venues, the Santa Barbara Historical Museum has policies that should be known in advance and can affect the planning and budgeting of the event. A professional event planner and full service caterer can assist you in making sure you are well aware of these policies in advance so your planning is effortless and there are no hidden surprises downstream.