This couple came to me with a vision.  It was to implement the natural backdrop already provided at
Elings Park
while providing personal and unique touches for their guests.  When you have a setting with views of Santa Barbara as lovely as
Elings Park
, there is no need to change a thing.  Add your own style and personality to what is already in place, and you are done.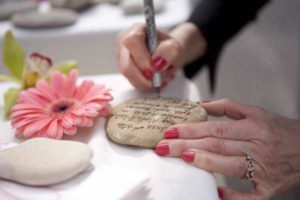 From the soft chair pads placed on the cement amphitheater seating for their guests,  little honey jars (tied into their name), hand-stitched linen napkins to the unique idea of having guests sign natural rocks with special messages for the newlyweds (in lieu of a traditional guest book), they clearly wanted something distinctly personal and thoughtful for their guests.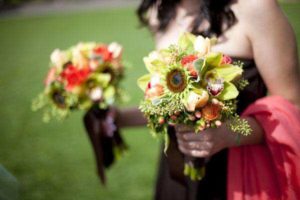 One of the things that stood out about this wedding was the fact that they chose a late morning/early afternoon wedding and reception and in doing this, Santa Barbara's nature was shown off at its finest and guests were able to enjoy the view and surroundings much longer.  Everything "popped" visually. From the distressed chairs for the reception, the giant vases of Mandarin oranges as decor to offering their guests a spring fare-styled wedding feast, everything was fresh. Our menu for this beautiful Santa Barbara wedding day at Elings Park included: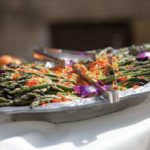 Passed Hors D'oeuvres:
Bruschetta
Raspberry & Pyllo Tarts
First Course:
Tomato Basil Soup
Wedding Luncheon Buffet:
Vegetable Strata (Light Strata with Red & Green Bell Pepper, Zuccini, Yellow Squash  and Hard Italian Cheese)
Tossed Green Salad Topped with Fresh Seasonal Vegetables Served with a Selection of Dressings including Homemade Balsamic and Champagne Dressings
Grilled Asparagus with Confetti of Red Peppers
Mint and Lemon CousCous with Tomatoes
Freshly Baked Rustic Breads  Presented in Baskets on the Table
Beverages consisted of Sparkling Fruit Juice, Freshly-Squeezed Orange Juice, Coffee and Sparkling Wine for the Toast.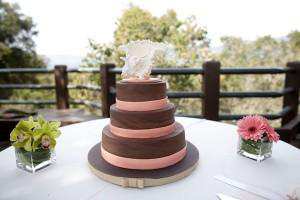 A great events team worked together to produce this lovely day.  From the incomparable photographer Tim Halberg of Halberg Photographers, whose images grace this post and who is a real pro to the beautiful and delicious wedding cake provided by Robyn Loves Cake to florist Shannon Kimbrough of Effloresce Floral , whose incredible creations were the piece de
resistance, complementing this incredible Santa Barbara wedding day.