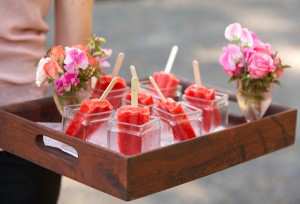 We welcome  Santa Barbara wedding planner Kerry Lee Dickey of Santa Barbara Wine Country Weddings & Events as our Guest Blogger today with some of her favorite ideas on outdoor wedding welcome bars.
Santa Barbara has so many outdoor wedding location options and event with a moderate climate year-round, we still experience some warm days in the summertime.  Doubly so just over the mountains in the Santa Ynez Valley, Santa Barbara's own wine country, where in the summer, temperatures can soar to the 90's or even reach just over the century mark.  When working with summer brides with outdoor ceremonies, I always advise on allotting part of their budget to prioritize for guest's comfort.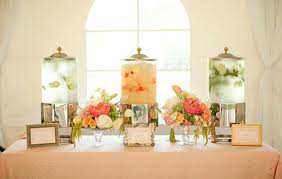 Because Santa Barbara is a destination wedding hotspot, most guests are either driving several hours from Los Angeles or San Francisco and when they arrive at the ceremony site where the blazing sun is still going strong even in the late afternoon, their comfort can also be a matter of safety.  Guests will not enjoy the detail and love you have put into your special day if they are in pain or have heatstroke.
Over a decade ago, it was considered "classy" and thoughtful to have a basic water station at the ceremony site for guests to quench their thirst upon arrival.  This "water station" has evolved into a "welcome beverage station" , sometimes also called the "welcome bar" and can include so much more than water.  It is and can be a visual feast for the eyes and highly creative.  And it can also include non-edible elements that are "tools" and "gifts" for your guests to keep them cool and comfortable. While some include alcohol as part of the welcome bar, I generally do not recommend this. Drinking can begin after the ceremony. It's the one part of the day that doesn't need any potential loopholes or sloppiness and serving non-alcoholic pre-ceremony beverages insures everyone stays sober and refreshed to enjoy the exchange of vows.  But overall, the "welcome beverage station" has evolved even further to a general "welcome station" for guests  where they can "get comfortable" in preparation for the ceremony. This can include so many different things and ideas.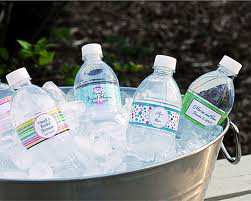 Here are a few of my favorite inspirations for the Welcome Beverage Station for outdoor summer weddings.
**"Spa Water" – water with cucumbers, freshly sliced lemons and /or fruits
**Non-alcoholic Sangria
**Lemonade with Mint or Lavender
                                                                          **Fresh Watermelon Aide
                                                                           **Passed Frozen Popsicles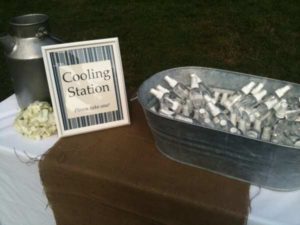 **A "Cooling" Station with refreshing beverages that include misters for guests, fans and parasols for their use during ceremony
**A "Cooling Dip" station where hankies are dipped in fresh, cold lemon water for compression on the face or back of the neck.
**A big bucket of ice with water bottles with the bride's and groom's logo/monogram on them
And always, always shade for guests – either natural or via big beautiful market umbrellas to gather under while they are enjoying their pre-ceremony beverage. Remember, it's all in how you present it.  Even casual beverage stations can look elegant or have a touch of something fun.  Think of your welcome beverage station as more than just providing drinkable refreshments. Many brides also offer some fresh light fare for nibbling.  It is also a great location and time to offer your guests an accessory or gift that they can use to keep them cool and comfortable. Just make it original and above all, have fun.
By Kerry Lee Dickey, Santa Barbara Wine Country Weddings & Event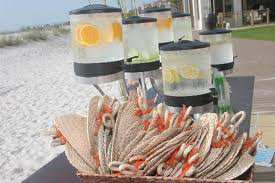 s