Nestled in the hills of Carpinteria with a stunning view of the coast and Channel Islands lies the long-time generation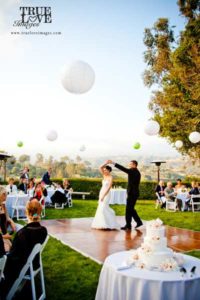 Bates family home and ranch.  Built in the 1920's, this charming  ranch has so many options  for event set-up and flow, it is a caterer's dream.  We recommend using as many aspects of the estate as possible so that guests get a chance to enjoy a versatile and memorable experience unlike any other.  For this particular private estate wedding, we provided ceremony and appetizers on the ocean-view side of the property and then served a lovely intimate dinner on the back patio with fireplace and mountain views.
Special touches for Giovanna and Greg's wedding day are best showcased in our photos, but one of our favorite special touches was the fact we utilized the fruit on the ranch to enhance their wedding menu.  From the abundant and succulent lemons, limes, oranges, passion fruit, avocados and pomegranates,  Mother Nature provided us with bounty for this wedding feast.
Menu Highlights:  Fantastic Salsa Bar with Homemade Guacamole using Bates Ranch Avocados;  Freshly -made Quesadillas; Beef, Chicken and Fish Tacos; Assortment of Fresh Summer Salads including Watermelon and Feta Salad;  Wedding Cake and Coffee.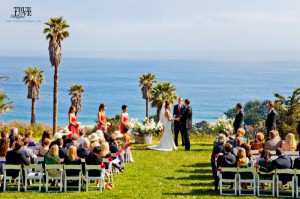 The Event Supply Partner Team:  Location: Bates Ranch House;   Caterer: Catering Connection;  Rentals: Ventura Party Rentals;  DJ:  AMS Entertainment;   Flamenco Dancers: Friends of the Bride;   Ceremony Music: Chris Fossek, Guitarist;  Flowers by Bride;  Wedding Cake: Reynaldo's Bakery; Photography: Gina Sinotte, True Love;