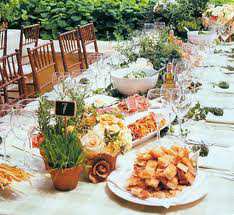 Your wedding meal style is not just your personal preference- it is determined by three leading factors:  your budget, the number of guests you have and the size capacity/layout of the venue at which you are hosting your meal and event.
While everyone has a vision of what they would like for their wedding meal, most are not aware of the choices available and that each meal style carries with it limitations and a price tag.  Below are the four most common types of wedding meal styles and some notes to consider when going with each particular choice.
Family Style/Feasting Style:  This is when guests are seated at tables and platters of food are brought out to the table for guests to help themselves to and pass around the table.
Considerations:
The menu chosen has to be food that will hold up well in quality and presentation when placed on platters and last a long time on them.
You will need ample space on your dining table for guests' placesettings, dining plates, glassware, decorative centerpices, bread, butter, salt and pepper and then of course:  all the platters of food being brought out that will need to rest on the table.
The benefits of Family Style  is that it's warm and intimate and can create a lovely and warm feeling even to the largest of wedding receptions.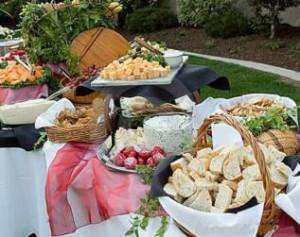 Buffet:  This is the traditional style of one long line of food that guests can access to be served or help themselves to. 
Considerations:
Contrary to popular belief, buffets are not less expensive than plated meals.  In fact, they can be the same as or even more than a plated meal
You may save money in labor, since buffet meals means less service staff tending to individual persons as is the case with table-side plated meal service.
Buffets allow for a lot of variety and creativity and dietary needs.
Buffets do not have to be a typical one line only spread of food. In addition to being double-sided, you can also spread the buffet out over the event area into "stations" so guests can visit one area for meat, another for vegetarian , one for potatoes, dessert, etc.
Timing wise, there is little to no time in between courses, so dinner service on a wedding timeline can be extra smooth.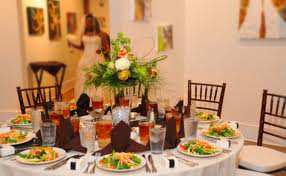 Plated: The most traditional, this is where guests are served their meal where they are seated.
Considerations:
Food arrives in the correct presentation
Extra special dietary needs (Kosher, vegan, gluten-free, vegetarian, etc) are more easily accommodated (make sure your caterer has a table list that shows where the special dietary meals are being served so that these meals may arrive at the same time as the other "regular" meals at the table).
Because of the nature of plated service, your labor will be more than buffet or stations, as more service staff is needed to provide proper table-side service.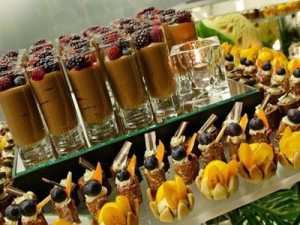 Cocktail Reception: This is where there are a combination of passed hors d'oeuvres, displayed hors d'oeuvres and even stations.
Considerations:
A cocktail reception only generally implies bite-sized food and beverages only.  However, cocktail receptions only today also include stations and can provide enough bite-sized food to fill guests as well as a sit down meal.
Cocktail receptions encourage great traffic flow and mixing and mingling.
Because you can get by with a shorter event time, you may save money on your venue's rental as well as vendor's services.
The key is to decide your budget.   Then you must pick your timeframe.  If you are hosting an hors d'oeuvres only reception and are serving lite fare, it should be at an "off meal time" part of the day.  For example:  2-5pm   (after lunch but before dinner) or after typical dinner time (8pm-11pm)  For the later evening time, sometimes an all dessert and coffee reception is a nice option.  If you choose to have a cocktail reception during prime meal hours (lunch or dinner), make sure your caterer gives you recommendations on quantities of food for your event and timeslot.  If serving a cocktail reception during prime meal times, guests will come expecting enough food to fill them like  a meal.