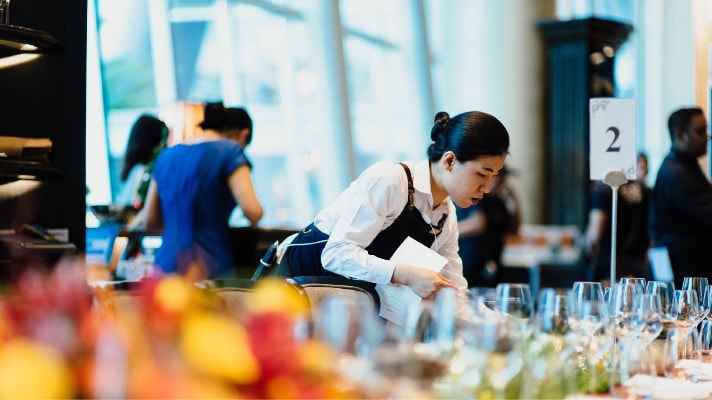 Choosing a caterer is perhaps the most important element of planning an event (after you've selected your venue), but can be a bit overwhelming.  And if  you're planning an event in a world-renowned special event dream location like Santa Barbara, there are many choices.   We've found that carefully guiding clients through the process of good questions to ask helps make the planning process much smoother and even enjoyable.
Consider the following points when choosing your caterer:
A caterer's core talent is the luscious food they create, but not all caterers are created equally.   Your favorite restaurant may cook your favorite food and do it to perfection and offer to "cater" your wedding;  but there is so much more to catering an intricate production such as a wedding, that their culinary skills in the restaurant may not shine – and in fact- may fail completely off site.  Choose a full-service caterer who has not only experience catering large events off site, but also knows all the rentals that will be needed for the satellite kitchen, guest dining and so much more.   Your event is a reflection of you as the host, so having not only an impeccable meal, but flawless service and all the equipment necessary to deliver it all is paramount. 
Review Websites, check out reviews and referrals for caterers who suit your vision and most importantly:  have worked your venue before (this makes a huge difference in quality, believe us!)
Once you've selected your top two or three caterers, we suggest setting up a tasting.  Most caterers will charge a nominal fee for a tasting and if you book with them, will apply this fee as a credit towards your event.  There is no substitute for actually trying the cuisine of your prospective caterer.
Determine what type of event you would like meal-style-wise:  buffet, plated, stations/heavy hors d'oeuvres : or perhaps something a bit more unique:  a "passed" meal where a four course meal is literally passed to guests course by course in easy-to-handle bowls, cups and more so they can eat wherever they are standing/sitting, allowing guests to continue to mix and mingle throughout the meal.  Your choice will largely depend on the vibe you want at your event.  Ask your caterer what they've seen that works best.  They are here to help!
Discuss the quantity of hors d'oeuvres your caterer recommends:  for an event where a meal is served later, hors d'oeuvres quantities won't be as much, but in all our experience, we've found guests are generally very hungry after a wedding ceremony (many have just traveled in and maybe have skipped a meal), and we recommend between 9-12 pieces per person for an event where a meal will be served later.
For any menu, we recommend giving guests options that cover a vegetarian, fish, and meat choice.  If you do a plated menu, you can even list the entree choices on your invitation so guests can RSVP with their meal choice.
Talk about the service style of your caterer:  most professional caterers will always start with service with the lead guests (for weddings, that is bride and groom , bridal party and family tables): either with plated service or inviting them to the buffet.  If you have a preference, let your caterer know.
Price-wise, buffet and plated menus often come out the same (where one does not have as much staff , it may make up for the cost with the more abundant amount of food needed, as in a buffet).  Ask your caterer for a cost-comparison, if you're not sure.
Got more questions? Catering Connect is here to help!  Contact us today.