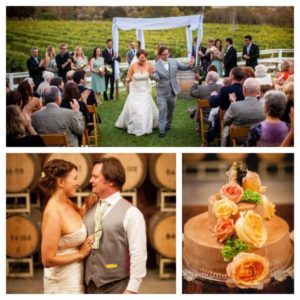 It's hard not to smile when you are so in love.  Try being as in love as Sarah and Brian are and celebrating this love at one of Santa Barbara wine country's most charming and historic wineries:  Lincourt.  These two newlyweds could not stop grinning ear -to-ear , and the joy was infectious for all who surrounded them that day (including us)!
Weddings at Lincourt are relaxed elegance, with sweeping views of the vines and Santa Ynez Mountain range  as well as a touch of history (the winery used to be an old dairy farm and the main tasting room is an authentic Sears craftsman kit house).  The old fashioned country charm of this location – especially with the red barn backdrop on one side, vines on the other, was  complemented with vintage china plates and small touches of country charm everywhere one looked.  And what goes better in the country than a wonderful Santa Maria Style BBQ?
Special Touches: Vintage china plates, boutique vintage-esque vases,  delicate flowers and more.
The Event Supply Partner Team: Venue: Lincourt Winery | Catering: Catering Connection | Rentals: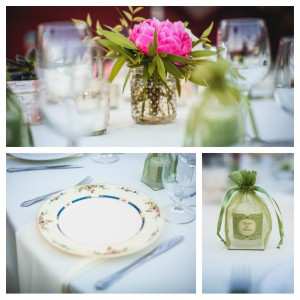 Ventura Rental Party Center | Floral: Ella and Louie | Coordination:  Wild Heart Events | Photography: Nathan Worden | Transportation:  Jump on the School Bus | Hair/Makeup:  April Alicia |
The Menu:  Santa Maria BBQ Buffet: BBQ Chicken Quarters with Honey & Brown Sugar BBQ Sauce |  BBQ Tri-Tip
with Corn & Jalapeno Relish Mexican Salsa | Red Potato Salad with Dijon ,Celery, Green Onions, Mayonnaise and Dijon Mustard | Buttery Corn on the Cob | Pinto Beans | Spinach Salad with Mandarin Orange, Almonds, Bell Peppers and Crunchy Noodles with Honey Mustard Dressing | Selection of Freshly Baked Artisan Rolls with Butter