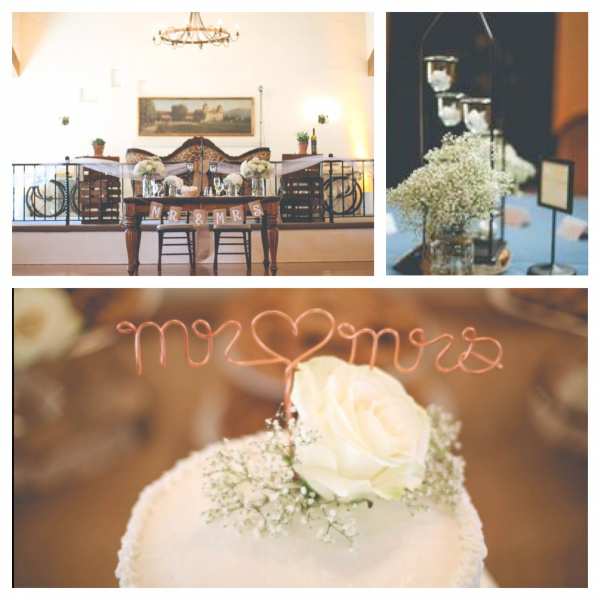 While Santa Barbara is filled with dramatically elegant wedding locations (and we love all of them), some of the best Santa Barbara gems are those whose very essence are historic and blend with the relaxed Santa Barbara Monterey architecture and Spanish heritage.  Santa Barbara Woman's Club – also known as Rockwood Woman's Center – was founded in 1892 and is nestled behind the Queen of the Missions, just at the foot of the drive up to Santa Barbara's beautiful Riviera.  With  ample self-parking and tucked in amongst the trees, the beautiful event spaces here allow all kinds of options to flow and feel. Rockwood is one of our favorite locations to recommend to clients.  We are also proud to have had this wedding featured on Rustic Wedding Chic!
Our bride and groom chose to go with the already vintage feel of Rockwood and focused on decor and special touches that complemented this beautiful location.  Here are some highlights from Alissa and Justin's vintage-styled nuptial celebration:
Special Touches: Vintage clothing, old-fashioned typewriter, an old bathtub to hold beverages, vintage furniture rental and darling wire wedding cake topper.
The Event Supply Partner Team: Venue:  Rockwood Woman's Center | Catering:  Catering Connection |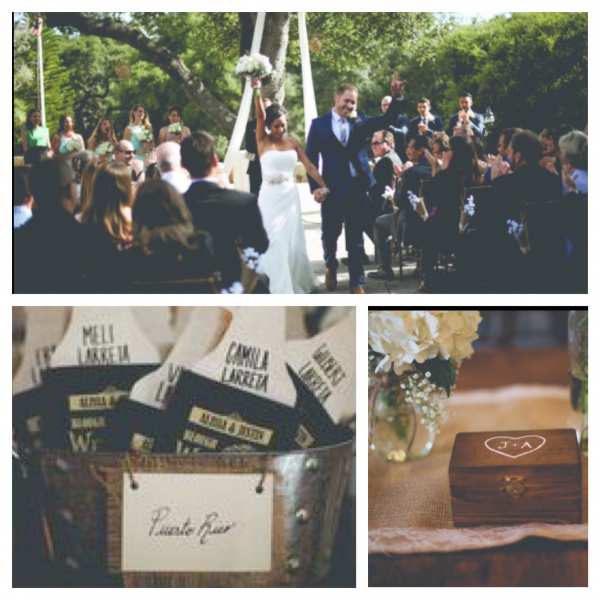 Rentals:  Party Pleasers | Florist: Burlap & Bordeaux| Coordinator:  RSVP Weddings  | DJ: DJ Zeke | Photographer: Hannah Kate | Videographer: Tony Cortez | Wedding Cake:  Your Cake Baker | Muralist: Robin McPherson Designs
The Menu:  Hors d'oeuvres (Tray-Passed): Trio of Crostini (Toasted Bread Rounds with:
Tomato, Mozzarella and Basil – Green and Black Olive Tapenade – White Bean and Rosemary) |  Hickory Bacon -Wrapped Dates with Almonds | Crispy Bacon Wrapped around Almond Stuffed Sweet Dates | Plated Dinner :  Field Greens with Fresh Strawberries, Goat Cheese and Roasted Walnuts with Feta Cheese & Champagne Vinaigrette | Selection of Freshly Baked Artisan Rolls with Butter | Entree: Grilled Rosemary Airline Chicken Breast Marinated with Rosemary and Olive Oil then Grilled to Perfection | Roasted Red Pepper Cream Sauce | Grilled Marinated Salmon Fillet | Lemon Caper Cream Sauce | Roasted Red Potatoes | Seasonal Vegetable Medley | Dessert: Homemade Cookie Bar & Wedding Cake