Summer is here and while weddings are in full swing for Catering Connection, we still have many private celebrations,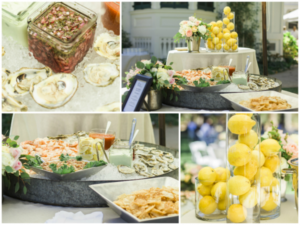 company parties, BBQ's and more.  While traditional favorites always stand the test of time, we have had many clients ask us how they can do things differently for an annual summer event (such as a corporate picnic) or a private celebration where they want to stand out a bit.  Here are some of our top recommendations to inspire your guests and keep things fresh for a memorable event:
The Setting:  Your event location sets the whole tone for the "feel" of your celebration. We are so blessed to have so many outdoor locations in Santa Barbara ! From parks, private estates, the beach, wineries and rooftops, everything about summer says to celebrate outdoors in nature.  Do take care to ensure  your guests are comfortable (plenty of shade  -rented market umbrellas or tenting to protect from scorching sun and heaters and wraps for summer evenings under the stars).  Rental items have shifted in recent years to some really fun concepts.  "Tenting" doesn't have to be boring and can include strips of fabrics swagged without a formal "point to point" vinyl covering overhead, and heaters can be creative firebowls which can double to help make s'mores later in the evening for guest enjoyment. Your location setting and guest comfort sets the tone for great food and conversation – have fun with it.
The Cuisine- Menu Inspiration
Re-think "BBQ".  Instead of traditional American BBQ, consider the Korean BBQ (a 2015 Food Trend we are seeing).  Korean BBQ is not overdone at events like sushi can be and not heavy like Chinese cuisine.  Plus, the fermentation in Korean BBQ makes for some incredible sensory delight  when cooking and guests love being a part of the process of observing Korean BBQ during the event.  It can also be a part of the entertainment and presentation for the event.
Appetizer Pairings. Pairing carefully passed appetizers with a complementing beverage is all the rage and

Photo Credit: KGFare via BizBash

the presentations can vary from elegant to just plain fun.

Clean & Hot-Weather-Proof Guests.  Summer's focus is already on staying cool and refreshed in the heat, so cuisine that follows this often also fits the "clean eating" health trend we are seeing.  A lovely summer appetizer option includes Cilantro Lime-infused Crab Salad Cucumber Cups; Freekah Soup with Spicy Harissa Shrimp and Dates Mini Soup Bowls; Citrus-marinated Salmon and more….
Re-think Dessert.  How about passed popsicles or: popsi-tails (popsicle cocktails) <—-we just invented a new term ( you can say you saw that term invented here first on the Catering Connection Inspiration BLOG).
Offer a USA BBQ "Tour".  BBQ is different all over the USA:  Southern, Texas, Mexican and more.  Offer guests a variety of BBQ flavors and styles from all over and let them choose and enjoy a "tour" of BBQ, rather than just one option only.  "BBQ" is also a term that , depending on the geographic location in the USA, involves various accompanying side dishes.  Let your professional caterer assist you in deciding what best suits which type of BBQ.
Beverage Ideas:
Think "presentation".  Cocktails in cans (yes, we said cans – many beverage suppliers are offering a variety of ways to enjoy their beverages) with fun-colored swirly straws is a great way to "dress down" even a fancy event and let guests know "summer has arrived". Also, serving ice cold cocktails or mocktails in mason jars is a quintessential way to convey the relaxed days and style of summer.
Use what's in season for food, beverage and decor:  watermelon cocktails and mocktails are a refreshing option many don't get to enjoy year-round, so make use of the season! For ice, freeze strawberries, watermelon chunks, blueberries or grapes in ice cube trays so the ice in beverages makes a colorful and unexpected  impression.  Fruit also can provide amazing decor for buffets, bars and even centerpieces for tables.
Put A New Twist on Old Favorites: There are thousands of summer cocktail recipe ideas- how about spicing up a traditional summer favorite? Adding a bit of spice to a Mojito? The  late night "snack" trend has been going on for awhile at events, so why not also have a passed late night beverage that is a spiked espresso drink to keep guests dancing?
At Catering Connection, we are standing by to help you with any or all of the above ideas to suit your vision, budget and even help you find the ideal special event location if you should require assistance.  805-566-1822.  Or send us an inquiry.