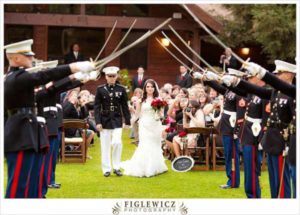 Really special wedding at Lion's Club Park in Carpinteria.  This couple had a special love story that can only be told in photos .  Thank you Figlewicz Photography for these images!  Congratulations, Jessica and Mike.  It was such a pleasure and honor to plan and be a part of your special day.
The Menu: Hors D'Oeuvres: Salsa Bar, including Traditional Salsa, Corn & Black Bean Salsa, Pineapple & Mango Salsa & Tomatillo & Apple Salsa with Tri-Color Tortilla Chips and our Freshly-Made Guacamole to Spice it Up, Chicken Empanadas with Chipotle Dipping Sauce ;  Santa Maria BBQ Dinner Buffet:  BBQ Chicken Quarters with Honey & Brown Sugar BBQ Sauce BBQ Tri-Tip;  Corn & Jalapeno Relish;  Mexican Salsa;  Red Potato Salad with Dijon; Red Potatoes, Celery, Green Onions, Mayonnaise and Dijon Mustard;  Grilled Vegetable Platter with Seasoned Eggplant, Red & Green Bell Peppers, Zucchini, Yellow Squash & Red Onions;  Buttery Corn on the Cob; Classic Caesar Salad with our Homemade Garlic Croutons; Selection of Freshly Baked Artisan Rolls with Butter
The Vendors:  Ceremony & Reception – Lion's Park | Catering – Catering Connection   | Flowers – Yamaguchi's Flowers    Dessert – Crushcakes | DJ – AMS Entertainment | Dress – Pebbles Bridal
Special Touches:  Just look at the photos!  This event was filled with magic!