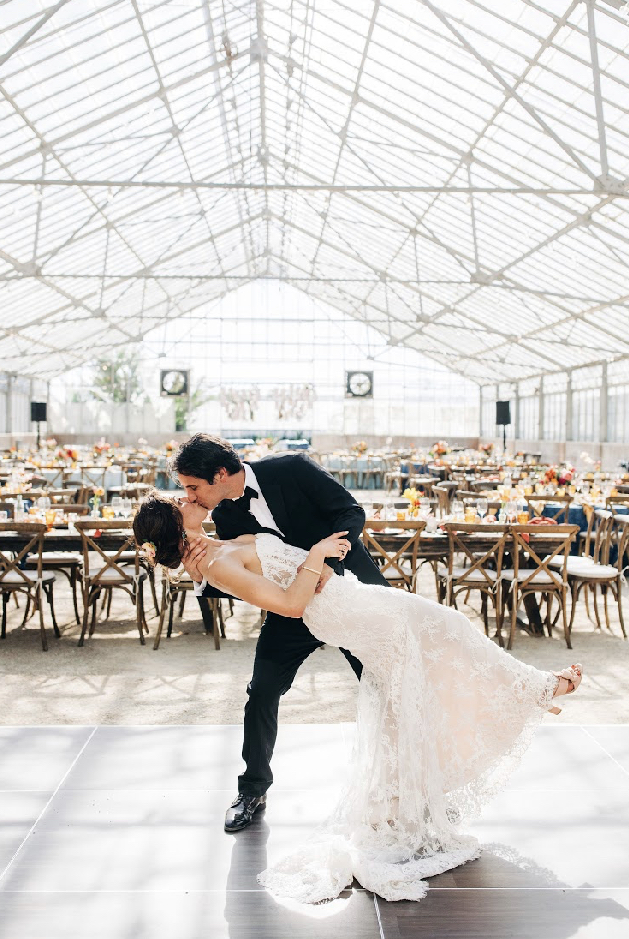 You know what makes a distinct wedding experience (besides unforgettable cuisine, of course)?  Suspended guest assignment table charts magically swaying overhead, a sweetly decorated bicycle, explosive pops of color everywhere, a beautiful wine blessing, edible centerpieces, and a couple in love celebrating their nuptials with family and friends… all in a greenhouse.
This wedding was the first of a series of 3 for us at Dos Pueblos Ranch – if you haven't checked out this incredibly diverse venue including ocean-front site options, a barn, a private estate and this fabulous greenhouse, you need to see it right away.  It is one of the most popular (and booked) event venues in Santa Barbara. 
Wedding Planner/Designer/Coordinator Jessica Kuipers from Onyx and Redwood pulled together some marvelous artistic touches which brought to light the beauty (and fun) of hosting a wedding reception in a greenhouse.
One of the things we loved most about this menu design was the rich layers of cultural nods: from Spanish influence to European and the Middle East, and even some local flare, including Ojai Pixie Tangerines and Carpinteria Avocados, the tastes, colors and textures were sumptuous, varied, and rich.
There wasn't one thing we didn't love about this wedding:  from the couple and their guests and family to the stellar event partner team who came together to produce the feast for the eyes and senses that was truly a one of a kind, distinct wedding masterpiece.
Menu Highlights: Tray-Passed Hors D'Oeuvres- Thai Curry Samosa with Potatoes  & Apricot Chutney Dipping Sauce;  Vegetable Spring Rolls with Plum Dipping Sauce;  Pear, Brie Cheese and Roasted Walnut Quesadilla;  Artichoke Fritters with Béarnaise Sauce;  Dinner Menu:  Plated First Course-Mixed Green Salad with Ojai Pixie Tangerine, Ripe Carpinteria Avocado and Roasted Pistachio &  Lemon-Poppy Seed Vinaigrette;  Selection of Freshly Baked Artisan Rolls with Butter;  Buffet Style Main Entrees:  Pan-Seared Chicken Breast with Cherries and Green Olives;  Citrus Salmon with Orange Relish; Warm Couscous with Roasted Spring Vegetables and Feta Cheese Seasonal Roasted Vegetables- Broccolini, Rainbow Carrots and Roasted Red Peppers with EVOO and Smoked Salt;  Israeli Salad: Chopped Salad of Finely Diced Tomato, Onion, Cucumber, Bell and Chili Peppers with Fresh Herbs  
Event Partner Team:  Venue:  Dos Pueblos Orchid Farm | Catering:  Catering Connection | Rentals:  Ventura Rental Party & Events | Tabletop:  Otis and Pearl |  Linen:  La Tavola Linen | Florist:  Precious Bloom |  Photography:  Betsy Newman |  DJ:  DJ Hecktik | Bar: Liquid Cult | Edible Centerpieces:  Slate Catering | Lighting:  Bella Vista Designs | Transportation:  Bill's Bus |  Wedding Planner/Coordinator:  Onyx and Redwood