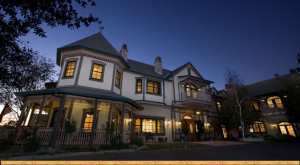 The life of a special event professional: we are privy to the best Santa Barbara event locations all over the county, including Santa Barbara's wine country and a darling boutique luxury inn in the Santa Ynez Valley:  The Santa Ynez Inn, which has earned the prestigious AAA Four Diamond Award.  We are one of the few caterers allowed to cater at this charming inn and we love working this lovely hotel in the heart of wine country.
But the other part of an event professional's life- and in particular that of a full service caterer –  that we love?  We get to bear witness to life's landmark celebrations.  Besides weddings, receptions and anniversaries, we love helping to plan surprise birthday parties.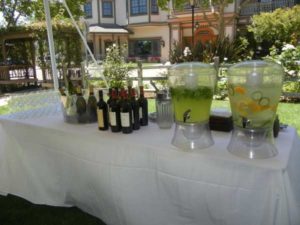 Last weekend we were co-conspirators to a fun birthday surprise party.  The weather could not have been more perfect – sunny, mid 80's and the Santa Ynez Inn garden was just singing with roses and flowers.  The birthday girl went wine tasting with her husband and a few friends and when they returned to the Santa Ynez Inn, we had the entire garden ready to go for a midsummer's summer birthday celebration with 20 of her friends waiting to surprise her.
Because the day was a typical hot day in wine country, the Spa Water was a welcome refreshing beverage (Lemon/Lime and Orange -Infused Water) and the Light Mint Lemonade a huge hit!  Guests enjoyed visiting, strolling in the garden and sitting in the shade of the tent, which shielded them from the direct hot sun.  Guitarist Chris Wooley provided lovely background music and our menu was Tuscan-inspired, which fit in directly with the hot summer day!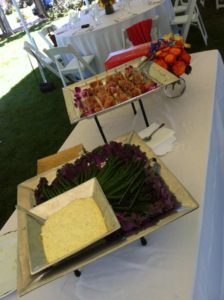 The Menu: Hors D'oeuvres: Fresh, Mouth-Watering Ripe Melons Wrapped in Prosciutto and Grilled Asparagus with Lemon Parmesan Dip;  Dinner: Italian Spinach Salad; Stuffed Chicken with Fontina and Prosciutto; Penne Pasta with a Crushed Tomato and Green Olive Sauce.
And no wine country, Tuscan-themed celebration would be complete without complementary wine, including Domaine Chandon Sparkling Wine and Italian red wine!