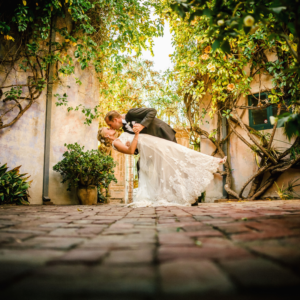 We love weddings at the gorgeous downtown Santa Barbara Historical Museum.  For those clients looking for a beautiful backdrop and setting that allows them to feel as though they stepped back to old time, historic Santa Barbara, there is simply no better location. Conveniently located from many boutique hotels, museums and shopping, many brides and grooms as well as their guests find this location charmingly perfect as a nuptial destination.
Kelly and Richard added all the "pops" and "wow" for embellishing this already gorgeous and immaculate site.  While the Santa Barbara Historical Museum doesn't need a lot of décor, what this couple did was enhance it with vibrant colors, special touches, and lots of personalization.  We were so honored to be a part of it, and were especially thrilled with the menu they chose (see below), as well as working with some incredible event supply partners to start Kelly and Richard off to their happily ever after.
We are also happy to report that this wedding was just featured on Borrowed and Blue wedding blog! 
Special Touch Highlights: Personalized signs, dessert buffet and candy bar in addition to wedding cake, late night snacks that included an old family recipe (see below), and cable-car style transportation provided fun for guests so they could enjoy the views of Santa Barbara.
Wedding Menu Highlights:  Tray-Passed Hors d'oeuvres:  Bourbon Glazed Meatballs, Crispy Bacon-Wrapped Almond-Stuffed Sweet Dates | Ahi Tuna Tartar on Wonton Crisps with Wasabi Cream, Vegan Edamame Hummus on Pita Chip with Fresh Mint Leaf, Mushroom Beggars Purse with Seasonal Wild Mushroom & Chive Butter |  Dinner Buffet:  Grilled Tri Tip with  Corn & Jalapeno Relish Chimichurri Sauce with Fresh Herbs and Olive Oil, Grilled Salmon Filet with Tomatillo Apple Salsa Tzatziki Sauce, Mediterranean Potatoes: Crunchy Roasted Potatoes with Fresh Mint, Garlic, Onions, Zucchini, Tomato Puree and Fresh Basil | Vegetarian Option: Grilled Vegetable Platter with Seasoned Eggplant, Red & Green Bell Peppers, Zucchini, Yellow Squash, Red Onions and Asparagus | Local Avocado Salad with Arugula, Red Onion and a Meyer Lemon and Black Pepper Vinaigrette,  Greek Salad: Crisp Romaine Lettuce  with Feta Cheese, Kalamata Olives, Tomatoes, Cucumbers and Pepperoncini with Homemade Greek Dressing | Selection of Freshly Baked Artisan Rolls with Butter | Coffee & Dessert: Wedding Cake & Candy Bar) | Late Night Snack: Tray Passed Mexican Quesadilla with Mexican Fresh Cheese & Refried Beans Presented in Bamboo/Paper Cones, and Client's Special Family Recipe for Crostini
Event Supply Partner Cast:  Location:  Santa Barbara Historical Museum | Caterer:  Catering Connection | Rental Company:  Ventura Rental Party Center  |  Florals: La Fleur Du Jour | Lighting:  Bella Vista Designs | DJ: Josh Stanford of DJ Hectik  | Photographer:  Matt Roberts of Rewind Photography | Wedding Coordination and Chivari Chairs:  Simply Santa Barbara Events | Transportation:  Santa Barbara Trolley | Bridal Beauty:  Carlyle Salon and Style Bar