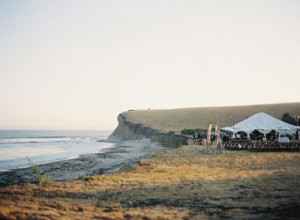 Hollister Ranch is set on the rugged, isolated coast of northern Santa Barbara and parts of it remind me of the coast near Central California.  While it is a private gated community with houses set far apart from one another, it has a rich part of California's history when the Hollister Ranch took up much of California.  Most events we do include a ceremony at Bulito Beach with reception following at the old Hollister mansion house.  This one was all down at Bulito Beach and was spectacular.  To have an event at Hollister Ranch, you must be a resident there or have connections with someone who does.  We are honored to do many events there and are familiar with the ranch's strict policies on events.  Jacqueline and Brock were a pleasure to work with and we especially loved producing a beautiful wedding in an exquisite and dramatic backdrop setting for a lovely couple. It was a lot of fun, included many special touches and one of our favorites was their signature cocktail named after the beach at Hollister Ranch "The Bulito".
The Event Supply Partner Team:  Venue:  Hollister Ranch;  Caterer:  Catering Connection:  Rentals:  Ventura Party Rentals;  Coordination:  Ann Johnson;  Photographer:  Patrick Moyer;  Videographer:  Ryan Petty Satellite;   Lighting:  Bella Vista;  Cake: A Matter of Taste;   DJ and Photobooth:  Gavin Roy Presents;  Florals:  Juniper Floral Designs;  Officiant: Paul Bergmann
The Wedding Menu: Hors d'oeuvres: Imported Cheese Display with Fresh Fruit, French Bread & Crackers, Trio of Crostinis, Chicken Empanadas with Chipotle Dipping Sauce, Hickory-Wrapped Dates with Almonds, Coconut Shrimp with Spicy Orange Dip;   Dinner:  Citrus Salmon with Orange Relish, Grilled Rosemary Airline Chicken Breast, Dijon Sauce, Shepard Salad with Blue Cheese, Roasted Walnuts and Cranberries, Fresh Green Beans with Sauteed Shallots, Roasted Red Potatoes and Freshly Baked Artisan Rolls with Butter.
Special Touches: Painted wine bottles for table numbers, shabby chic mirror/ frame for table seating arrangements, hay bale gift table, Signature Cocktail: The Bulito (Vodka, Lemonade, Raspberry, Mint).