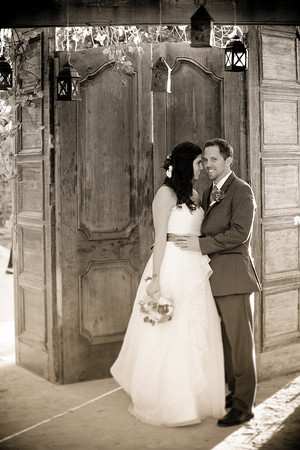 The Santa Barbara Historical Museum is Santa Barbara historical elegance at its best.  And weddings at the Santa Barbara Historical Museum are among the most memorable and elegant.  Located downtown Santa Barbara, many guests decide to stay at the lovely boutique inns surrounding the museum and walk to the celebration.  It is a great location for convenience and beauty and it really captures the romantic history of Santa Barbara. We love doing weddings at this stunning wedding location! Check out some of the special touches Marina and Ryan did below as well as some fabulous photos!
Event Supply Partners: Venue:  Santa Barbara Historical Museum; Rentals: Ventura Party Rentals Catering: Catering Connection; Florist:  Tenley Young;  Band: Monte Carlo Band;  Photographer: Daniel Ballesteros;  Lighting , Decor, Vintage Doors:  Bella Vista;  Audio/Video:  Matt Davis
Menu:  Passed Hors D'oeuvres: Ahi Tuna Tartar on Wonton Crips with Wasabi Cream | Three Cheese Wontons with Roasted Red Pepper Aioli | Grilled Asparagus Spears Wrapped in Prosciutto Dinner Menu: Plated Shepard Salad with Blue Cheese, Roasted Walnuts & Cranberries with Feta cheese | Selection of Freshly Baked Artisan Rolls with Butter |
Herb Seasoned New York Sirloin of Beef with Cabernet Sauvignon Reduction (carved to order) |Grilled Salmon Filet with Tomatillo Apple Salsa, Roasted Red Potatoes, Green Beans & Cherry Tomatoes with asparagus Dessert & Coffee Station: Celebration Cake (white cake with fresh strawberries and whipped cream)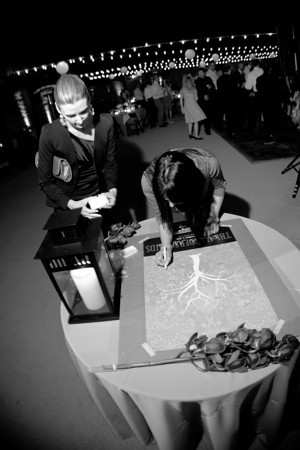 Special Touches: Bella Vista Designs did a stunning job providing a charming backdrop to this Santa Barbara Historical Museum wedding.  Vintage Doors and Lanterns to create a backdrop behind the officiant and bride and groom for the ceremony-supplied by Bella Vista.  Some of our other favorite things included the bride performing with the band, a "family tree" guest book, tablesettings that went with the setting at the museum so beautifully: rot iron lanterns, flowers and wine bottles, a non-traditional "head table" (a long ranchero table down the middle of guests rather than placement at the "top" of the dining space); vintage chalkboard seating chart created by the bride who is a teacher by profession and table names were concert venues that were special to the bride and groom.  Every part of this wedding was packed with personal touches from the bride and groom and complemented the magical setting of the Santa Barbara Historical Museum.