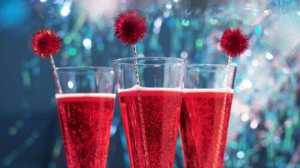 Whether you are entertaining in your home or hosting a posh soiree at a resort special event venue, the theory behind what makes a great holiday party is the same:  it boils down to gracious comfort blended with "wow" for your guests.  How intense  this "comfort" and "wow"  look will largely depend on one's spending plan.  The idea is that if, from the very moment your guests arrive, you are ensuring their comfort, joy and some little surprise elements, your party is sure to be a great success.   Here are some of our top tips gathered from the pros to help ensure just that:
Location, location, location:  Location will set the entire feel of the event, but also consider the ease of it for your guests.  Do they have to travel a long way to get there? Once they are there, is there ample parking – and lighting- for your guests?  While you may have ample parking, oftentimes when guests arrive it is light and when they go home it is dark.  Consider renting lighting for your parking areas, providing parking attendants with flashlights or better yet:  hiring a valet to park cars for guests in the case where parking may be a challenge.  If budget allows it, having a "station" that is covered with a few places to seat and some heat for guests to await their vehicle when leaving is another lovely touch.
Set the Tone:  There is nothing worse than being looking forward to a great party and friends and arriving and set-up is still going on.  Vendors are racing around frantically completing set up, guests trying to step over boxes, cords and more.  Make a timeline.  Make sure all decor , set up and all vendors have everything ready for that first guest one half hour before the invitation actually states.  There will always be last minute items that will take up your time that you hadn't counted on and there may be a guest who arrives a bit early (or a vendor who arrives a bit late).  Having at least that one half hour buffer will help save you stress – but more importantly, make your guests feel welcome when they arrive and walking into a relaxed, fun "tone" that you have set.  You have one chance to set the tone for a great party and it begins the moment they walk through the door.
From the Moment They Arrive, "Put a Drink In It" (their hand):  Guests should be greeted with a beverage and light appetizers.  Again, how that looks may depend on your spending plan.  Whether it's a full hosted bar with tray-passed signature cocktails or an elegant holiday punch bowl with self-service beverages in a home.  Even the most simple and economic appetizers can be pumped up with some "wow" and "fun".  Instead of chips and salsa on a table, consider passing martini glasses with salsa and a few chips placed on the side for individual servings.  It's not always necessarily how much money you have as much as how creative you get with what you do have.
Watch Heavy Crowd Traffic Flow Areas:  People will gather where there is food and beverage.  If you have a bar, displayed food, buffet, etc. be aware of how close it is to everything else and try and space it out.  One of the biggest complaints from guests attending events planned by novice planners is that everything was too crowded and guests cannot mingle or relax.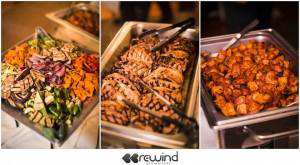 There are many , many other ideas for menu, decor, design and entertainment, which we will cover in a subsequent blog post.  As long as you remember your guest's comfort, setting the tone and creating some fun factor that they are not expecting, you will have a successful and memorable holiday party your guests will be talking about for a long time.