Whether you are entertaining this Thursday evening for Halloween or you are preparing for Thanksgiving, this autumnal beverage is a favorite for entertaining. Don't forget, presentation is everything, so make sure the glass you choose showcases your beautiful beverage. Skoal!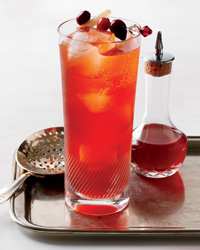 Ingredients:
1 orange wedge
13 cranberries
Three 1-inch pieces crystallized ginger— 2 minced and 1 whole for garnish
2 ounces Aperol
1 ounce Lillet Blanc
Ice
4 ounces hard cider
4 dashes Cranberry-Anise Bitters or Peychaud's bitters
In a cocktail shaker, muddle the orange wedge with 10 of the cranberries and the minced ginger. Add the Aperol, Lillet Blanc, bitters and ice. Shake well. Double-strain the drink into an ice-filled Collins glass and top off with the hard cider. Garnish with the 3 remaining cranberries and the slice of ginger skewered on a toothpick.