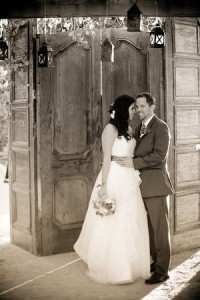 Engagement season begins Thanksgiving through Valentine's Day and we, along with wedding planners all over often field the question "What's next?" from newly-engaged brides-to-be.   For those planning this lifetime, landmark event for the first time, all the tasks can feel overwhelming.  Here is a list of some of the top recommendations on the most crucial initial steps necessary for couples planning their dream Santa Barbara destination wedding:
1.  Have several date options in mind.  It will give you better flexibility and in some cases better negotiating power.  While weddings in Santa Barbara are lovely almost year-round, the ideal months are May-November.  But if any part of your wedding includes an outdoor component, it is always good to have a rain plan or make sure the venue at which you are looking has an indoor option or can be tented.  Also heaters should be a part of any outdoor Santa Barbara wedding venue as even in the hot summer months, the fog can roll in and temperatures are cool.  Both heating and indoor or tenting options should be built into your spending plan (budget) up front with any outdoor location.
2.  Check the Santa Barbara Visitors and Film Bureau's community calendar to check for possible city or county-wide events and /or festivals on your desired date (s), which could cause street closures near your venue or guest's hotels, cause issues with parking for your guests or cause a sell-out of hotel rooms and even wedding venues county-wide.
3.  Re-think a Three Day Weekend.  While convenient for destination weddings and guests' travel plans, it can also cost a premium in site fees and vendor's services.  It can also mean extremely heavy traffic and the likelihood of festivals and more activities in town.   Having several possible wedding dates in mind will help you keep your spending plan (budget) under control.  If you do have to have a 3 day weekend, knowing that traffic could be heavier will allow you to plan in advance and allow for that in your timeline with your vendors and guests coming to your wedding location as well as secure hotel rooms enough in advance for your guests so they are not sold out when guests call to make their overnight reservations.
4.  Book your location (almost simultaneously with your caterer).  Hire a Professional Full Service Wedding Planner to help you location-scout and find venues based on your date (s), budget and event size (number of guest) as well as work with a Full Service Caterer on a quote/proposal.  Can't hire a Full Service Wedding Planner? Contact a Full Service Caterer and ask them at which venues they cater, what the maximum capacity is at each venue and an approximate price range.  Your Full Service Caterer is your partner in assisting you start the planning process seamlessly.  They can provide you a full quote of their services, staffing, food and beverage as well as all rentals customized based on the location/venue.  Often times booking a venue and booking your caterer can go hand in hand, since most of the time they complement each other. And if your caterer has worked the venue before, he/she will have invaluable advice that will help save you time and money because they will know all the ins and outs of the venue and how to use it to its fullest potential.
5.  Book the rest of your vendors. Once you have your location and caterer, you will probably have been provided a list of Preferred Vendors from florists, lighting designers, cake providers to hair/makeup and guest transportation.  These lists will help you find reputable event vendors for the rest of your event.  It is important to have your date and location established before contacting other vendors for quotes, as their services are often largely based on the location , how complex it is , how long your event is, etc. So make sure you don't put the cart before the horse.  Many will not even give a quote until you have your date and location booked.  And of course, if you are working with a Full Service Wedding Planner, you will be guided through all the next steps automatically and referred to the best professionals in the area.