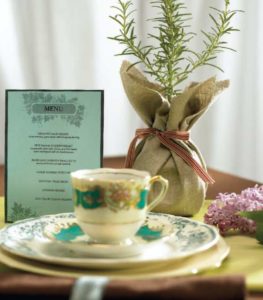 In honor of Earth Day, we pause to contemplate some ideas that pertain to our unique special event industry and how we can make a difference in our every day line of work as it pertains to producing events.  While there are many tips listed below that you have probably heard or seen before, we wanted to draw particular attention to the last one:  environmentally-friendly rentals and rental practices for a special event.  Many just focus on the decor and food being eco-friendly and forget about the event rentals.
While there are many ideas out there, below is just a quick sampling:
Minimize guests' driving or travel by either keeping the event local or inviting a select , small group of guests.  You can also use eco-friendly transportation that adds to the charm of a memorable event by having horse-drawn wagons transport your guests from one central pick-up location.
Don't register for gifts you will not use.  Consider having guests donate to a favorite charity. If you must register, consider requesting gifts not be gift-wrapped (many stores offer this as an eco-friendly option).
Flowers and Food:  using locally -grown, organic produce and decor is always a must. Also, ask how your caterer disposes of the food at night's end:  giving a second scrape to plates on site will help eliminate a second washing later.  Also, how is food disposed of?  Do they separate out recyclables, compost, trash, etc?
Decor/Centerpieces:  Use decor that can be re-used later.  For example, potted plants (succulents are very popular right now and are ideal for this) can often be rented through your florist and then your florist can re-use them for other events as well.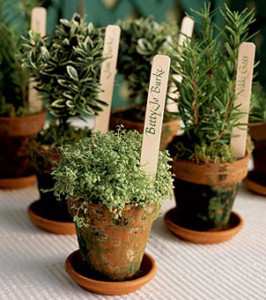 Make Favors Pull Double Duty:  consider favors that can also double as escort cards for your guests as well as benefit the environment.
Rentals: Fortunately, vintage and rustic elegance is really in right now and it's all about bringing the outdoors "in", which works great for eco-chic, eco-friendly weddings.  But apart from decor, did you know that you can also rent eco-friendly event items such as biodegradable corn starch cutlery, compostable cups, bamboo utensils, special eco fuel for cooking/chaffing dishes, biodegradable trash liners and much more?  You can also ask your rental company if they re-use tent liners and recycle velon as well as other environmentally-friendly products and practices.
Not sure where to start?  Ask your full service caterer what their practices are and what they recommend and have seen with rentals and environmentally-friendly event practices.