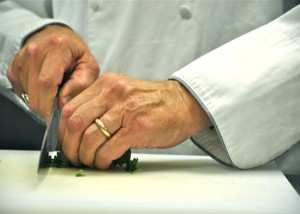 If you have ever had an event catered by Santa Barbara's special event full service caterer Catering Connection, you may have met the people in the front of the house (your Events Manager, serving team, Maitre D', etc).  But what few know is that the backbone of any amazing event where exquisite and fresh food is served is the team in the kitchen – behind the scenes.  These are the individuals whose job it is to time the delivery of your courses perfectly and not begin the preparation or cook time one second too soon or too late in order to ensure that what is delivered in front of the house is going to meet or exceed the guests'  expectations.  If the event is running early – or late- it is their job to try and make up for it with the food preparation and timing in the kitchen . They are also in charge of ensuring that the ingredients that are ordered for your menu are from the freshest and best food purveyors.
Introducing the man who oversees all of the above and makes this happen behind the scenes of every great event at Catering Connection:  Chef de Cuisine Mark Lavallee.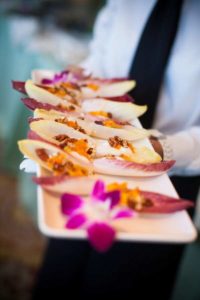 Born and raised in Holiston, Massachusetts, Mark showed a love of cooking at the tender age of 5 after watching his mother and grandmother cook constantly and thought every kid melon-balled fruit when they went to visit their grandparents.  He began to notice that food , its quality and how it was presented, always brought smiles to everyone's faces.  "It was like Christmas was everyday," Mark says.
Mark's professional career highlights include working at Cuisine Chez Vous– a high end french catering company.  This is where he credits really developing his passion for cooking.   He has cooked for past presidents, including George H.W. Bush and many politicians.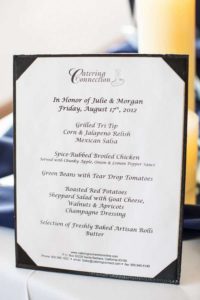 A 14 year employee of Catering Connection, Mark credits the people with whom he works as one of the top reasons he loves his job so much and has enjoyed longevity at this award-winning Santa Barbara catering company.  When asked what his secret is for keeping cool during stressful events, he said, "Having confidence in your abilities, your staff and your product."
When not producing amazing Santa Barbara events "behind the scenes" for Catering Connection, Mark enjoys spending time with family and friends and riding his bike.  And believe it or not, this man still loves to cook even on his days off from work, with BBQ Ribs with a Maple Bourbon Glaze being a particular favorite, thus proving that once a passion is in your blood, it becomes a part of you and "work" is just something you do because you enjoy it- and get paid.