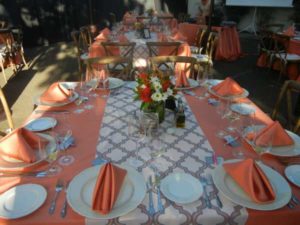 While our new offices have been in place for awhile now, nothing truly warms a new space like that of friends and people you love.  And it was exactly this way at the recent NACE monthly mixer when we hosted some of the best in the events industry from Central and Southern California at our new Laguna location.
We are proud to showcase our event service "partners in crime", menu and photos from this fantastic event (our parking lot never looked so good) below.
This event would not have been the stunning celebration it was without the talents of the following generous industry professionals:
Greg Finnerty of Premiere Event Productions for the wonderful lighting
Heidi Whitcomb and Team of Ventura Rental Party Center– rentals and design coordination
Kate at Creative Coverings for table runners and insightful presentation on colors and catering trends
Ana and Jesse at Casitas Valley Creamery for Artisan Cheeses and Sweet Treats
Wayne Kjar at Your Cake Baker for fabulous desserts
Kay Nash at Candy Cart Heaven
Linda Jordan at Linda Jordan Photography
MC Joe Hecht of Time of Your Life Entertainment who delighted our guests with Spanish music and keeping everyone entertained
Rich from RSVP Creative for the fantastic promotional video clip of the event!
NACE -for our member spotlight!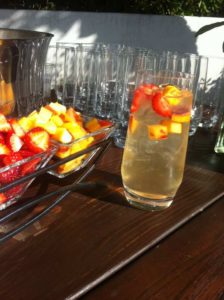 Menu
Welcome Beverage and Nibbles
White Sparkling Sangria
Bacon Wrapped Dates with Almonds
Chicken Empanadas with Chipotle Dipping Sauce
Belgian Endive with Mission Figs, Goat Cheese & Candied Pecans with a Port Wine Glaze
Casitas Creamery Cheeses
First Course- Served Family Style
Caprese Salad with Heirloom Tomatoes,Buffalo Mozzarella, Fresh Basil on Fluffy Pastry
Baby Spinach Salad with Carrots, Dates, Red Onion, Oranges, Pomegranates, Pinenuts and a Citrus Vinaigrette
Main Course- Served Family Style
Spanish Paella
Grilled Asparagus with Confetti of Red Peppers

Dessert Graciously Provided by Wayne Kjar, The Candy Cart and McConnell's Fine Ice Creams