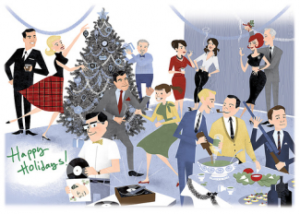 When planning a major event, everyone is on a budget.  Or as Wedding Planner Kerry Lee Dickey calls it, a "spending plan".  And really, that's all it is.  A way to spend the money you have to work with.  Some have millions.  Some have tens of thousands while others have hundreds.  And one can celebrate with almost any dollar amount, but it's about how creative you get with your money and the choices that you make with the funding you do have.
Here are our top  tips to helping you maintain a memorable but budget-friendly company holiday party.
1.  Firstly, and we cannot stress this enough:  use your Full Service Caterer as your planning guide.  They can save you invaluable time and money in finding the perfect party location for your guest size and budget, assist with coordinating the rentals necessary for your event.  Further, they know what menus will maximize your budget and the timeline you are trying to accomplish.  Planning a corporate or private holiday party takes about 30-40 hours.  Unless you are certain you or your employees won't be distracted and will  keep up with their workload, best to utilize the talents of your Full Service Caterer to help you get the job done right, efficiently and cost-effectively.
2.  Date and Time .  Saturdays are at a premium price-wise.  Not just for venue rentals, but other vendors working the event will charge you top price as well.  Fridays are not too far behind Saturdays, but may be slightly less.  For the most negotiating power, try a weeknight.  Evenings are also the most expensive time-wise.  Consider a decadent brunch for your employees/guests on a Saturday or Sunday.  They may welcome a refreshing respite to the busy holiday season and all the other evening holiday parties to which they are already obligated.  And many companies opt to hold their annual party in January  as a kick off to the New Year . This is even more ideal because many venues and event vendors are hurting for business and bookings and one can really negotiate in January.
3.   Use Local Vendors.  You will save money by using locally-established vendors.  Also try and use vendors who have worked the venue before.  Their knowledge of the venue's policies and load-in, set up and clean up instructions can save you money from overtime or cleaning charges/penalties from the venue from vendors who do not know and have not worked the venue before.
4.  Little Things Can Add Up.  Consider some of these items to help keep costs from creeping up:
**Use an electronic invitation instead of paper.  There are some great Websites who produce stunning (free) invitations.
**Keep decor to using colored linens and candles.  Ask your venue what they include with their package. Many venues or caterers have linens and candles that are no extra charge . Ask.
**Instead of an individual gift for each employee, consider pooling the budget for several really nice/good gifts that are raffled off
**DJs are more cost-effective than live bands and the right one can also serve as a fantastic MC, too.
Need more ideas? Ask your Full Service Caterer (Catering Connect) . That's why we're here.  We will help you get through it all and make you look good to your guests in the process. 805.566.1822