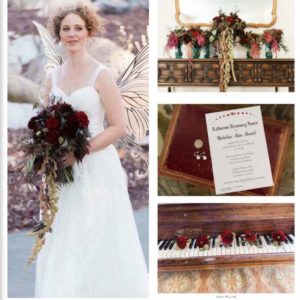 Re-Post by Permission
"Trends" are always an interesting phenomenon.  One has to ask the question if they are created strictly for marketing purposes with an agenda, or if there is a science of a pattern or if perhaps a hybrid of "all of the above". Regardless, we find them fascinating, in most cases true and in all cases, entertaining and always, always creative!
Below are the top 2016 trends that are sweeping the wedding industry.
Colors:  
With Pantone's Color of the year being Rose Quartz and Serenity, the palettes will be very soft.
Themes: 
Such as "woodland" and "rustic" are still in and are being blended with glam elements such as beads and some crystals and chandeliers, with the heavier focus being on the woodland and just a smidge of glam.
Bride's and Bridesmaids Wear:
The "Bo-ho Chic" look for the bride with off the shoulder and loosely fitting gypsy-esque dresses as well as non-matching bridesmaids dresses (but complementing tones/shades) that were "in" for 2015 remain "in" for 2016. 
Decor:
Gold and even light copper metal-lined plates are in!  Even linens that have some light gold "bling" are eye-catching and in demand with rental companies.  Food presentations which use natural elements such as bark, wood , succulents, fruit and leaves fit with the "bo-ho chic", "woodland" feel. 
Food, Beverage and Service Style: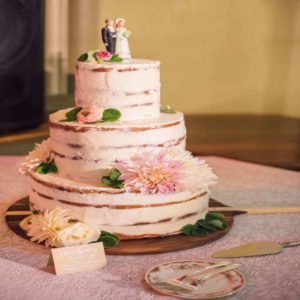 Cakes:  Traditional wedding cakes are always "in" but we are seeing "naked" wedding cakes, wedding cakes suspended from the air, as well as dessert alternatives such as dessert buffets, ice cream sundae bars, or "cakes" made with cupcakes or madeleines or other dessert items; mini popsicles, donut displays and so much more!  
Meal Style:  Brunches are gaining popularity with waffle bars, make-your-own omelette stations, brunch cocktails and more!
Meal Style:  Stations allow terrific guest -interaction, which allows more of a quality event experience for everyone and today's couples are all about quality being a part of their wedding day.
Meal Style:  Serving comfort "late night snacks" is still popular:  mini cones of popcorn, sliders and mini cups of fries , and even sending guests home at the end of the evening with a late night snack for them to enjoy at home or in their hotel room (think cookies and milk and even more).
Beverage Style:  While the signature cocktail is still in, a new trend is emerging:  that of the "satellite bar", which are smaller bars placed around the event area that only focus on serving one beverage type.  The possibilities for decor for each bar are endless, adding even more charm potential and originality to the event.
*Original Post Above from Kerry Lee Dickey of Santa Barbara Wine Country Weddings & Events
____________________________________________
At Catering Connection, we are skilled at not only recommending the best service  and meal style for your vision, spending plan as well as location, but we welcome the opportunity to customize any of the above 2016 trends and blend in a few of your own ideas, too.  805-566-1822 . You can visit our Menus Page for some menu inspiration and then contact us for a proposal to discuss your requests.