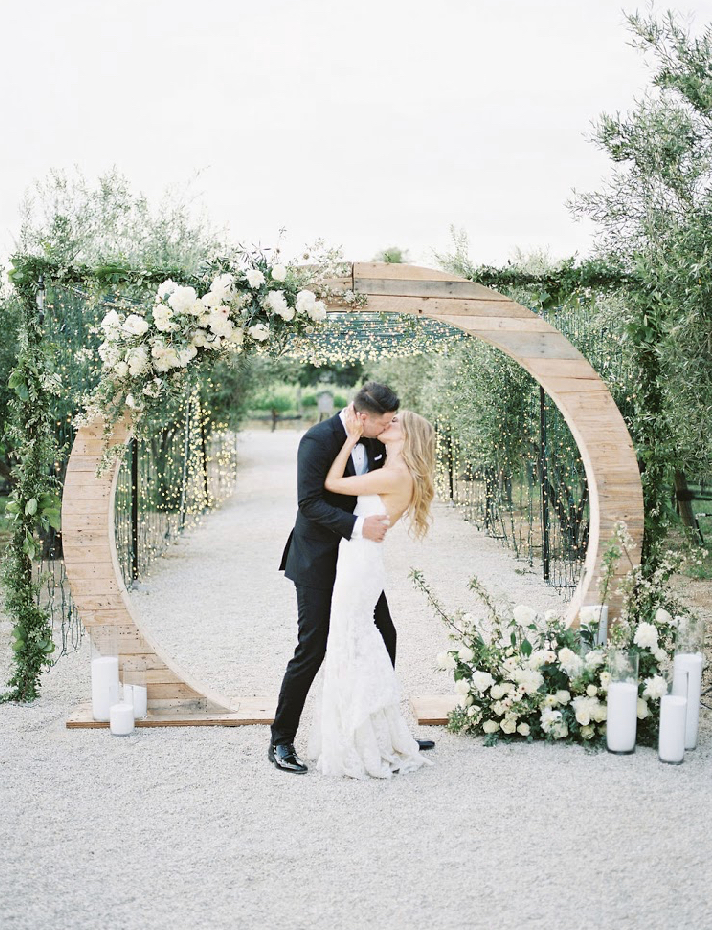 Imagine enjoying the relaxed sophistication of France's wine country and not having to get your Passport to do so.  This June 2019 wedding hosted at Sunstone Winery & Villa in Santa Barbara's wine country was the epitome of the unique world of wine country weddings, which offers couples, their family and guests an escape to a rich and memorable experience they will never forget.
Above the main winery is the private Sunstone Villa estate where Kati and Erik's wedding day story was staged.  While the villa, surrounding hillside and vineyards provide a storybook setting by themselves, wedding planner and designer Percy Sales enhanced the site with rich and abundant floral, candle and lighting design that will make you swoon (see photos below).  And what is a gorgeous wedding with family and friends without a sumptuous feast and special personal touches?   Our wedding menu below blended the couple's own story when we incorporated the groom's family's beef jerky company (Cattaneo Bros) into the displayed hors d'oeuvres as well as the mother of the bride making her special gnocchi into the family style main dinner.  And check out the capture of the bride and her dad's Father/Daughter Dance, which was quite elaborate and fun!
While rain surrounded the entire area that day, it stayed away from Kati and Eric's celebration, providing a dramatic sky in the distance but keeping this couple and their friends and family – as well as the gorgeous setting – all safe and dry.  It was such a pleasure working with Kati, Eric, their families, as well as the incredible talented event partners listed below.
Wedding Menu: Elegantly Displayed Hors D'Oeuvres:  Cheese & Charcuterie Artisan Cheeses and Cured Meats, Salamis and Paté, Cattaneo Bros. Beef Jerky, Served with Crisp Cornichons, Kalamata Olives and Dates, Dijon mustard and Salted Butter, Seasonal Fruits, Assorted Nuts, Fig Preserve and Local Honey Crusty French breads, Lavosh and Assorted Crackers |  Tray Passed Hors D'Oeuvres: Chicken & Waffle with Warm Maple Syrup Dip; Crostini with Brie, Apricot & Caramelized Onions & Balsamic Swirl; Fresh Local Ahi Tuna Poke on Wonton Crisp with Seaweed Salad, Avocado Brunoise and Wasabi Cream; Braised Pork Belly with Cherry Compote Served on Appetizer Spoon; Smoked Salmon Lollipop with Bagel Dust | Dinner Menu: Displayed Assorted Breads served with Olive Oil, Balsamic Vinegar and Soft Salted Butter;  First Course: Panzanella Salad Thinly Sliced Fennel, Vine Ripe Tomatoes, Kalamata Olives, Fresh Mozzarella, Red Onions and Fragrant Basil with EVOO, Served over Baby Mixed Greens; Trou Normand (palate cleanser):  Frozé – Sunstone Grenache Granita with Spring Ruhbarb and Fresh Mint Served in Old Fashion Champagne Cup; Duo Plate Entree- Espresso-Crusted Beef Filet-Mignon and Proscuitto & Gruyere Stuffed Chicken Breast, Black-Pepper Hollandaise Sauce Served over Creamy Mashed Potatoes and Grilled Asparagus | Side Dish served family-style- Potato Gnocchi with Sage Brown Butter and Freshly Grated Parmesan (Gnocchi Provided by family) | Or Vegetarian Selection – Quinoa Stuffed Bell Pepper with Quinoa and Roasted Vegetables, Parmesan Cheese Red Pepper Cream Sauce | Dessert & Coffee- Wedding Cake (Provided by Christine Dahl) | Additional Desserts: Cupcakes  (Provided by Enjoy Cupcakes) | Coffee Service- Freshly Brewed Regular and Decaffeinated Coffee and a Selection of Herbal Teas |  Late Night Snack- Grilled Cheese Assorted Grilled Cheeses: Classic Grilled Cheese Parmesan Crusted & 3 Cheese Grilled Cheese Fig Jam, Goat Cheese & Caramelized Onions Grilled Cheese; Mexican Churros -Rolled in Cinnamon Sugar and Served with Hot Chocolate Dip  
Event Partner Credit:   Venue:  Sunstone Winery & Vineyards |  Catering:  Catering Connection | Rentals:  Tent Merchant | Linens: Luxe Linens | Floral:  Hogue Floral | Lighting:  Waveform Events  & Innovative Light Design | Music:  Brian Chesters | Cocktail  Music:  Tony Ybarra |  Bartending Service:  Cocktail Concierge  |  Photography:  Jenny Quicksall | Video:  Luxury Lifestyle Studios  | Wedding Cake:  Christine Dahl | Cupcakes:  Enjoy Cupcakes  | Wedding Planner/Designer:  Percy Sales Events