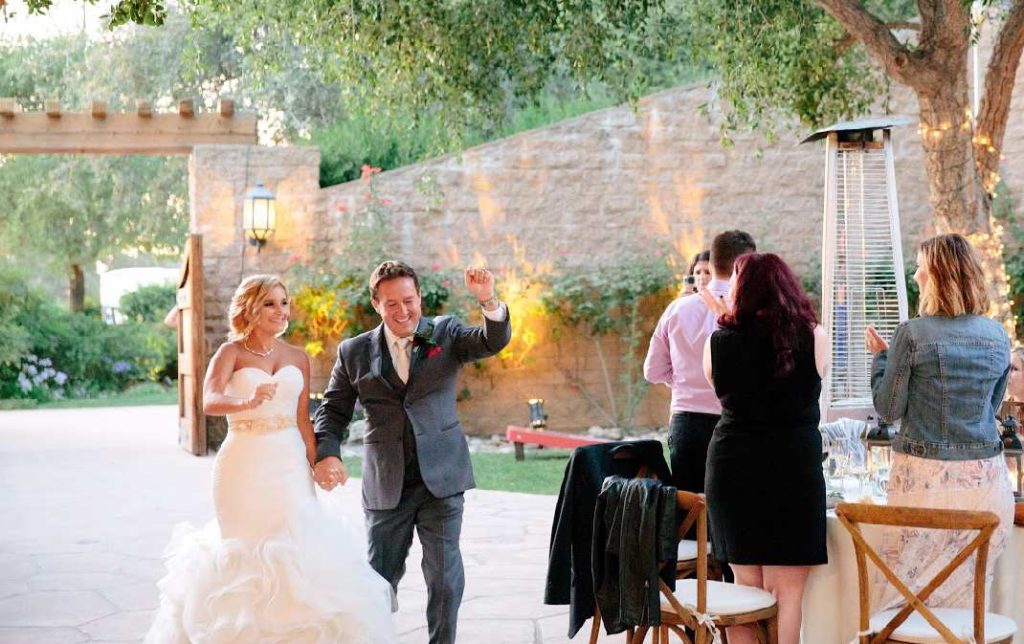 Every couple has a story.  And their wedding day is a lovely way to celebrate the journey of this story thus far.  Choosing the perfect backdrop for nuptials helps showcase the love story that has taken place, and one of the most epic locations in Santa Barbara wine country is the fabulous Firestone Winery and Vineyards.  With ample guest self-parking, views of vineyards for miles, a beautiful courtyard reminiscent of something one would find in Italy, there is plenty to savor at this vineyard.
Natalie and Brian chose to say their vows at The Mesa, a site accessible by trolley or bus only, but serenely quiet on a sweeping lawn area and overlooking the thousands of vines below as well as all around.  There is simply no bad view at this location.  Using wine barrels as part of the decor, but allowing Mother Nature to do her magic painting and movement, not much is needed as far as decor at this site.  After the ceremony, guests adjourned back to the main winery where they enjoyed an evening of sumptuous dining under the stars in the courtyard as well as a decadent menu paired with delicious Firestone wines. To top the evening off,  they were offered a late night snack for the bus ride home with a Soft German Pretzel with Warm Cheese Dip.
Menu Highlights: Tray Passed Hors D'oeuvres: Hickory Bacon-Wrapped Dates with Almonds; Teardrop Tomatoes, Fresh Mozzarella and Basil Skewers served with a Balsamic Dipping Sauce;  Miniature Beef Wellingtons | First Course:  Peppery Arugula Salad with Blackberries, Santa Barbara Pistachios and Crumbled Goat Cheese, served with Meyer Lemon and Black Peppercorn Vinaigrette | Plated dinner:  Duo Plate:  Peppercorn-Crusted Filet Mignon with Cabernet Wine Reduction Cayenne-Rubbed Airline Chicken Breast with California Avocado & Red Onion Relish;  Garlic Mashed Potatoes  & Seasonal Vegetable Medley  | Vegan entree: Stuffed Bell Pepper with Quinoa and Roasted Vegetables, Parmesan Cheese, and  Red Pepper Cream Sauce | Wedding Cake/Cupcakes Provided by Solvang Bakery & Enjoy Cupcake  | Late night Snack to Go ( for the bus): Soft German Pretzel with a Warm Cheese Dip.
Event Supply Partner Cast:  Venue:  Firestone Winery |  Catering:  Catering Connection | Rentals:  Ventura Rental Party Center | Florals:  Anna LePley Taylor | Lighting:  Bella Vista Design | Ceremony Music:   Nataly Poltner | Reception Music:  Gavin Roy Presents | Cake: Solvang Bakery | Cupcakes:  Enjoy Cupcakes | Officiant:  Danielle DeVoy | Guest Transportation : Santa Barbara Airbus  &  Solvang Trolley |  Wedding Planner:  Leanne Elliott, Soleil Events | Photographer: Kevin LeVu Photography | Hair/Makeup: Cheryl Nacario