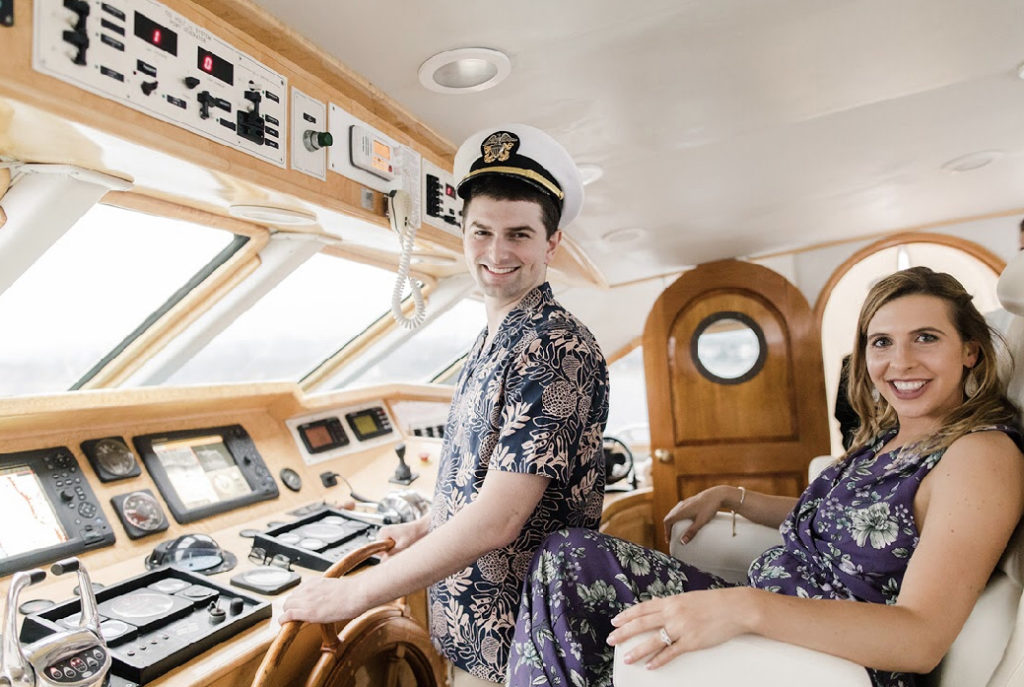 Because Katie and Faris grew up in Santa Barbara and lived in New York, they wanted their wedding to be a true reflection of both states, according to their wedding and wedding weekend event planner Jessica Kuipers of Onyx and Redwood.  "Having the guests enjoy a sunset cruise on our West Coast shore for their Welcome Reception was a no brainer," she said.
The Channel Cat is the largest luxury sailing catamaran in the Santa Barbara Harbor.  It is used for all kinds of events where the event host wants to make an impression.  With views of the Channel Islands and Santa Barbara coast line, there is simply nothing understated about an event aboard the Channel Cat.
To go with the theme and welcome Katie and Faris' guests from all over to our gorgeous coast, we created a seafood buffet to remember (see photo & menu description below), along with many other Catering Connection signature favorites.  It truly was a pleasure producing this event for them and we wish them every happiness in their new life together.
Menu Highlights: Elegantly Displayed on Hors D'Oeuvres Table: Cheese & Charcuterie with Artisan Cheeses and Cured Meats, Salamis and Paté, Served with Crisp Cornichons, Kalamata Olives and Dates, Dijon mustard and Salted Butter, Seasonal Fruits, Assorted Nuts, Fig Preserve and Local Honey Crusty French Breads, Lavosh and Assorted Crackers;  Seafood Bar, including:  Fresh Oysters, Crab Claws and Crab Legs, Jumbo Shrimp, Steamed and Raw Clams. Served with Cocktail Sauce, Lemon Wedges, Horseradish and French Mignonette; Tray Passed Hors D'oeuvres:  Rock Shrimp Ceviche Tostada with Fresh Limes, Cilantro, Avocado and Pico De Gallo;  Strawberry Sage & Ricotta Triscuit;  Steak Bite Ojai with Watkins Ranch Steak and Blue Cheese & Cilantro Pesto Dips;  Crushed Fava Beans and Burrata Crostini;  Hickory Bacon Wrapped Dates with Almonds;  Chicken Street Taco with Salsa Verde, Shredded Cabbage and Pico de Gallo;  Pork Carnitas Street Tacos with Avocado Crema, Salsa Roja, Fresh Cilantro Leaves, Red Onion and Lime Wedge;  Mexican Bacon Wrapped Jalapeno with Cream Cheese Stuffing
Event Partners:  Venue:  The Channel Cat  | Catering:  Catering Connection | Photographer:  Anna Delores | Wedding & Wedding Weekend Event Planner:  Jessica Kuipers of Onyx & Redwood