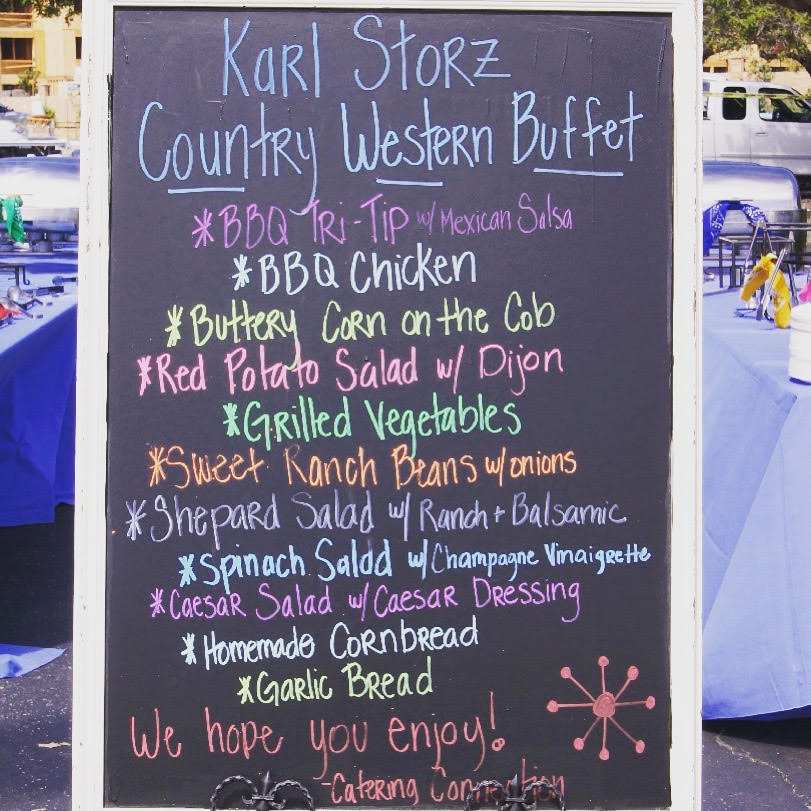 There are many ways to do the annual "company picnic".  In fact, it doesn't have to be a picnic at all.  For convenience and economy, a summer celebration for employees can even take place right on the work site.  Not sure where or how?  Allow us to come take a look and present some possibilities.
For this Goleta company, they went all out in a delicious experience for their employees and their families right on location.  And we provided all the juicy goodness that summer cuisine offers.
Corporate Menu Highlights: Hors D'oeuvres:  Passed Appertizers: Watermelon Wedges , Mac & Cheese Balls |  Quesadilla Bar –  Live Quesadilla Station:  Grilled Chicken Quesadilla with Queso Fresco & Cilantro Shrimp, Papaya and Green Onion Quesadilla Three Cheese & Confetti of Bell Pepper Quesadilla | Salsa Bar: Traditional Salsa, Corn & Black Bean Salsa, Pineapple & Mango Salsa, Tomatillo & Apple Salsa with TriColor Tortilla Chips and our Freshly-Made Guacamole to Spice it up |  Country Western Buffet: BBQ Tri-Tip with Mexican Salsa, BBQ Chicken Quarters with Honey & Brown Sugar BBQ Sauce, Buttery Corn on the Cob, Red Potato Salad with Dijon Red Potatoes, Celery, Green Onions, Mayonnaise and Dijon Mustard | Grilled Vegetable Platter with Seasoned Eggplant, Red & Green Bell Peppers, Zucchini, Yellow Squash & Red Onions Sweet Ranch Beans with Onions Shepard Salad with Fresh Vegetables Toppings , Ranch Dressing, Homemade Balsamic Dressing, Spinach Salad with Jicama, Mandarin Oranges & Almonds, Champagne Vinaigrette, Classic Caesar Salad with our Homemade Garlic Croutons , Caesar Dressing | Homemade Cornbread with Butter, Garlic Bread  | Dessert:  Cookies and Baked Goods, as well as ice cream bar featuring McConnells Fine Ice Creams.
Event Partner Team:  Location:  On Site  | Catering:  Catering Connection |  Rentals:  Town and Country |  Lighting:  Bella Vista Designs |  Linens: LaTavola | Straw Bales:  La Cumbre Feed | Bar Service: Simply Cocktails |  DJ: Jay Turner | Band: Monte Mills Band | Pony Rides/Zoo:  Tawni's Ponies | Face Painting:  Aurora Painted Faces | Line Dancing:  Lee Ann Edie | Security:  Mission Security |  Photos:  Shabina Dalidd | Event Planner:  Dina Clapinski