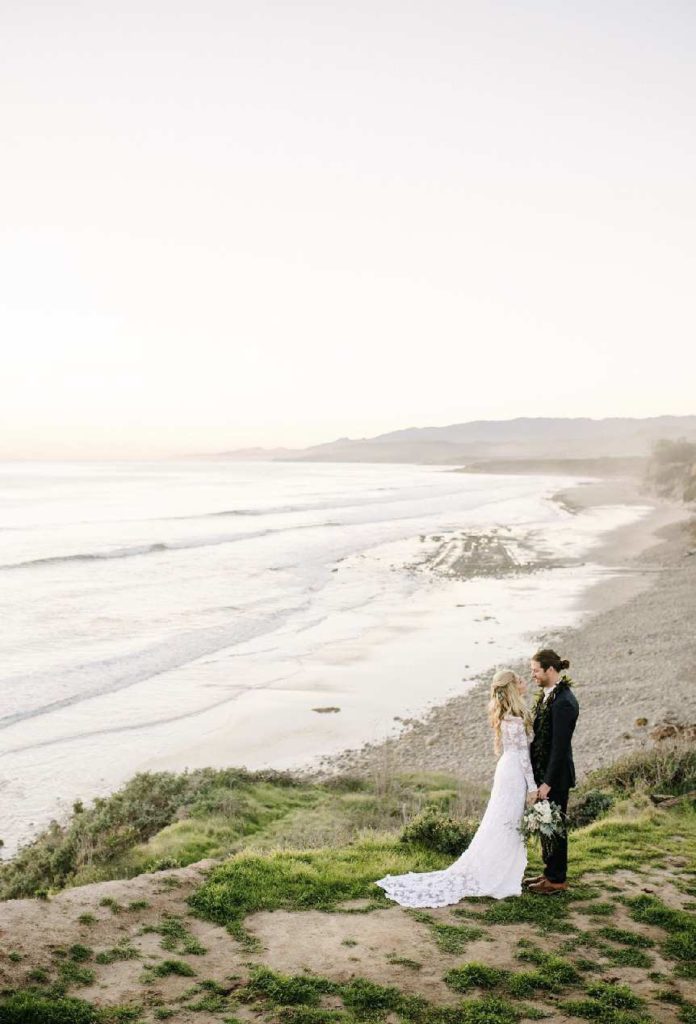 Dos Pueblos Orchid Farm is a paradise for nature lovers.  Unpretentious and a blank canvas for creativity that pops with nature as a backdrop, it is no wonder bohemian-chic brides seek out this Santa Barbara wedding location.  And when wedding planner Jamie Kostechko is at the helm, you know you are bound to see some unique style throughout the event.
The day started off with a sound healing exercise and "bath" (described as a
"massage" of sound washing over you and relaxing you).  Later on, during the actual wedding and reception celebration, festivities revved up with a picture-perfect day for "I do" with the California coastline behind by day and stars dancing overhead by night as guests feasted on a sumptuous California-style dinner buffet and danced the night away.
Menu Highlights:  Tray Passed Hors D'Oeuvres:  Bourbon Glazed Meatballs ;  Chicken Skewers- Garlic Marinated Chicken Skewer with Chimichurri Dipping Sauce; Crunchy Belgian Endive with Gorgonzola, Candied Walnuts and Cranberries;  Roasted Sweet Tomato Tart with Basil, Pine Nut Crush and Goat Cheese |  Dinner Buffet:  Grilled Tri Tip Marinated & Grilled to Perfection with Corn & Jalapeno Relish & Mexican Salsa ;  Rosemary Chicken Breast- Fresh Chicken Breast Marinated with Olive Oil & Rosemary, then Grilled to Perfection with Roasted Red Pepper Cream Sauce;  Grilled Marinated Salmon Fillet with Lemon Dill Sauce ; Roasted Red Potatoes with Fresh Herbs and Garlic;  Creamy Mashed Potatoes; Seasonal Vegetable Medley;  Classic Caesar Salad with our Homemade Garlic Croutons; Shepard Salad with Vegetable Toppings  and choice of Ranch or Homemade Balsamic Dressing;  Selection of Freshly Baked Artisan Rolls with Butter
Event Partner Team:   Location:  Dos Pueblos Orchid Farm  |  Catering:  Catering Connection   |  Rentals:   Milk & Honey    and   Classic Party Rentals |  Florals:  Haute Blossoms Florals  |  Lighting:  Bella Vista Designs |  Transportation:   Jump On the School Bus  | DJ:  SoundWave Pros |  Sound Healer and Sound Bath: Natasha and JaRah Zen  | Wedding Coordination:  Jaime Kostechko of Wild Heart Events | Wedding Cake:  Enjoy Cupcakes  |  Photography:  Jason Meintjes