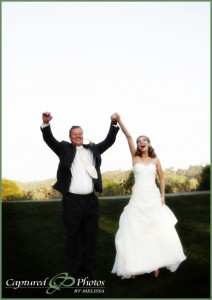 We are so lucky to work at so many incredible independent Santa Barbara wedding locations.  Because Santa Barbara is blessed with almost year-round mild temperatures and lovely days,  a wedding in one of Santa Barbara's parks is an incredible option.  And when the Santa Barbara park wedding location is at Elings Park, bride, groom and their families and guests are in for a real treat.  Elings Park is one of the only -if not the only- park in Santa Barbara that is actually set up for weddings and events and offers sweeping views of Santa Barbara and its mountains as well as coast line.
Godric Grove, Singleton Pavilion and The South Bluffs each have their own vibe and view.  Not sure which is for you?  Read on for a description of each and then call us for a custom event evaluation and we can help you decide:  805.566-1822. We have experience at all three of these fabulous Elings Park wedding locations.
Godric Grove is a large estate-like venue at the top of the park with incredible views of the city and ocean. It can accommodate up to 300 guests and includes a stone amphitheater, a large lawn surrounded by lush gardens and liquid amber trees, and a reception deck shaded by oak trees. There is a spacious serving area and room for a bride or caterer's canopy. A private parking lot accommodates valet parking or guest self-parking with easy access. Beautiful matilija poppies bloom from spring to summer.
Singleton Pavilion is a gorgeous large grass area with a charming gazebo and two tree-shaded, natural stone terraces. It provides wonderful views of the mountains, Santa Barbara, and a just a peek of the ocean. The large lawn area can accommodate up to 200 guests for seated dining. Newly remodeled landscaping and fabulous views have made this one of the most sought after venues for private, intimate events.
The South Bluffs is the Perfect ceremony site! With an incredible 180-degree view of the ocean at your feet, the cool ocean breeze and stunning sunset make this the ideal location to exchange your vows.
Please visit our BLOG for a look at some of our previous weddings produced at Elings Park.