Ah, L'amore Italian style.  When you really understand that food is one of the most important ways to experience sensuality, then you will understand that food can actually be considered "sexy".  And who knows how to do romance and sexy better than the Italians (our French Events Manager Philippe may beg to differ, however).
The best part of all? Veal Saltimbocca is easy to prepare and will impress.  Pour some Italian red wine and get ready to wow your sweetheart.
Veal Saltimbocca with Garlic Spinach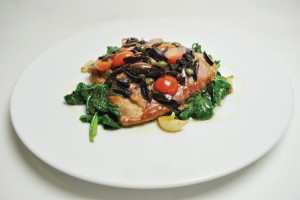 Veal
4 veal cutlets, about 3 oz. each
8 thin slices prosciutto
8 leaves of sage
One cup dry white wine
2 Tbsp olive oil
1 Tbsp butter
1 Tbsp of lemon juice
1 Tbsp capers
¼ cup grape tomatoes cut in half
1 Tbsp olives of your choice thinly sliced
1 cup of all-purpose flour for dredging
Salt and pepper to taste
Season veal cutlets with salt and pepper on both sides. Place one leaf of sage on each one. Wrap the prosciutto around the veal (in this case 2 slices of prosciutto will be used to wrap one cutlet). Repeat for each cutlet. Heat large frying pan over medium high heat and add olive oil. Dredge wrapped cutlets in flour and place in warm frying pan. Cook for about two minutes on one side until well browned and then flip and cook for another 2 minutes. Do not move around too much. Remove the fat from the pan then add white wine, lemon juice and butter, bring to a boil, then add tomatoes capers and olives. Reduce for one minute and serve.
Spinach
Three large bunches of spinach, cleaned
8 whole cloves of garlic, cut in half
2 Tbsp of olive oil
Heat large frying pan over medium high heat and add olive oil. Add garlic and lightly brown for one minute. Add spinach and stir, cooking until spinach is wilted.  Season with salt and pepper.
To serve
Place even amount of spinach on each of four plates. Place the veal cutlets on the top of the spinach and spoon sauce from pan to finish.
Serves 4
Recipe Courtesy of  Vancouver Sun