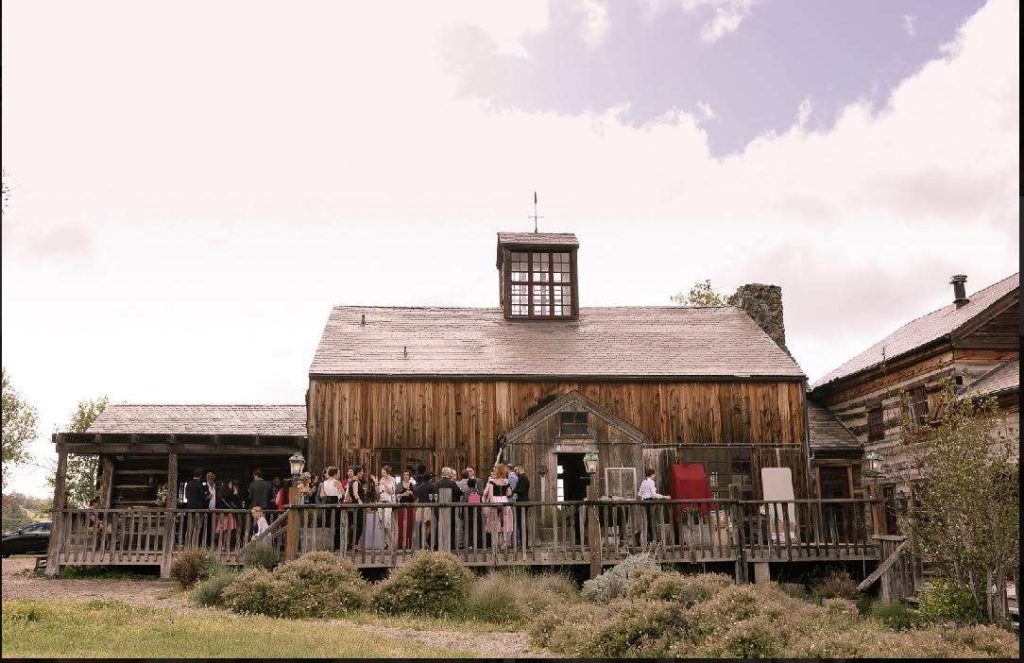 What goes best with mountain air, fresh breezes, panoramic vistas and no sign of modern conveniences for miles?  The company of those you love most, who are dearest to you — and bringing those people together with an incredibly delicious, fresh menu designed to complement the environment.  Figueroa Mountain Farmhouse is nestled back in – you guessed it- Figueroa Mountain and requires guests to arrive and depart by shuttle.  One of the most unique features of this incredible wine country mountain venue is that a few guests can actually stay the night there and have the whole mountain lodge experience right in Santa Barbara's wine country.
One of the things we loved most about this menu is that in addition to a succulent tri-tip marinated and grilled to perfection (nothing says "country" more than a good cut of delicious beef) , they offered their guests one of Southern California's most popular culinary treats as a "station": check out the delicious ceviche station in our menu highlights below!
This wedding offered country goodness and a warm, intimate setting for friends and family to gather and celebrate this newlywed's first steps in their new life together.
Menu Highlights:  Tray Passed Hors D'Oeuvres: Roasted Sweet Tomato Tart with Basil, Pine Nut Crush and Goat Cheese; Ahi Tuna Tartar on Wonton Crisps with Wasabi Cream; Pear, Brie Cheese and Roasted Walnut Quesadilla; Thai-Spiced Pork Dumplings with Cilantro Dipping Sauce; Oysters with  Shallot & Black Pepper Mignonette and Lemon Wedges; Ceviche & Salad Station: as Appetizer/First Course ; Ceviche Tostada Station: Fresh Halibut Ceviche; Mexican Rock Shrimp Ceviche, with Crisp Corn Tostadas, Fresh Limes, Avocados and Pico De Gallo; California Baby Field Greens Crumbled Goat Cheese, Roasted Santa Barbara Pistachios & Fresh Strawberries with Champagne Vinaigrette | Carving Station: Grilled Tri Tip Marinated & Grilled to Perfection; Chimichurri Sauce with Fresh Herbs and Olive Oil; Black Peppercorn Sauce; Gratin Potatoes with Cheddar Cheese, Garlic & Cream; Seasonal Vegetable Medley; Selection of Freshly Baked Artisan Rolls with Butter; Vegetarian Paella with Fresh Baby Vegetables with Edamame and Seared Tofu |  Dessert & Cheese Provided by Client~ Whole Wheel of Cheese with Accompaniment as "wedding cake" |  Mini Dessert Buffet: Fresh Fruit Tart, Chocolate Truffle Bites, Bread Pudding & Pineapple Upside-Down Cake
Event Partners:  Location:  Figueroa Mountain Farm House |  Caterer:  Catering Connection |  Rentals: Ventura Rental Party Center |  Florals: Self | Entertainment:  DJ Zeke |  Photographer:  Kyle London