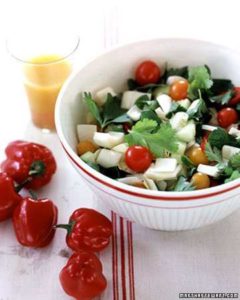 One of the best things about summer is that nature is just bursting with goodness, providing perfect ingredients for succulent meals and in particular fresh salads.  This Martha Stewart salad recipe is one of our favorites for intimate celebrations indoors or outdoors and serves four.  We hope you will enjoy it, too.
Ingredients
2 large heads endive, sliced lengthwise into quarters

1 large Kirby cucumber, peeled, seeded, and cut into 1/2-inch chunks

1/4 cup fresh flat-leaf parsley leaves

1/4 cup fresh mint leaves

1/4 cup fresh cilantro leaves

3/4 cups baby cherry red and yellow tomatoes

1/2 red bell pepper, seeded and cut into 1-inch-long matchsticks

1 tablespoon raspberry or white balsamic vinegar

1 tablespoon freshly squeezed lemon juice (1/2 lemon)

Salt and freshly ground black pepper

2 tablespoons extra-virgin olive oil
Directions
Step 1

Slice endive into 1/2-inch-thick pieces, and transfer to a large bowl. Add cucumber, parsley, mint, cilantro, tomatoes, and red pepper.

Step 2

In a medium bowl, whisk together vinegar and lemon juice. Season with salt and black pepper. Whisk in olive oil until combined.

Step 3

Pour dressing over salad, and toss to combine. Serve salad over a dish of herbed veal chops.