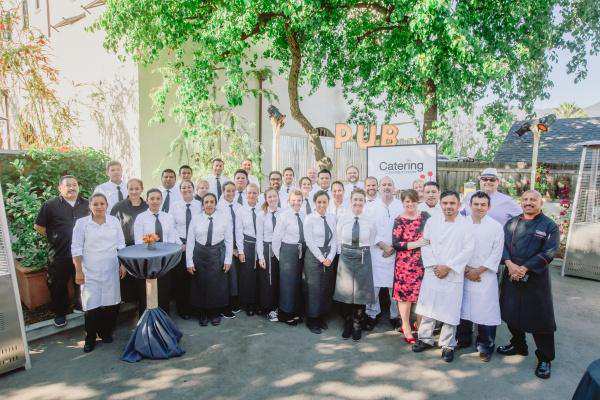 "The talk of the town is (that) this was the party of the year.  That night, everyone was filled with a joy, a sense of freedom to be a real human, happiness for you and most of all, real love.  The warmth, human kindness and open heartedness was simply amazing," said Reverend Miriam Lindbeck, one of Santa Barbara's beloved wedding officiants in a note to the Catering Connection offices post-celebration.
The story of Catering Connection's evolution cannot be told without a tribute to its owner and founder, Ursula O'Neill, coming over to the USA from Ireland via London and a lot of hard work and eventually becoming a U.S. Citizen in 2014.  She has single-handedly built Catering Connection from the ground up.  Catering Connection enjoys success as one of Santa Barbara's premiere full service caterers , serving corporate events, weddings, private events, fundraisers and is the preferred daily supplier of quality meals and catering for several of the area's leading corporations.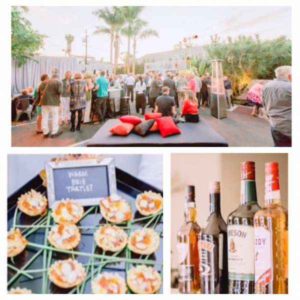 The Details:  When it came time to put together a landmark 20th Business Anniversary, Ursula designed the entire event from start to finish with the collaborative creative input and work of some of the area's leading event supply professionals (see The Standing Ovation below).  The feel: a hybrid modern/industrial-meets-whimsical-vintage-with-Irish-infusion (think Whiskey-tasting station and Bells of Ireland florals) , complete with introducing a complete re-brand for Catering Connection.
Guests walked through a canopied entrance where they were greeted on the other side with a modern and industrial feel,  full hosted bar, DJ music and passed appetizers.  On their way to the back part of the event,  they could stop at any one of the succulent hot food stations( see The Menu below) and enjoy more cozy fare.   The feel in the back transitioned to a magical, intimate, vintage-style "pub" with the Ulysses Jasz band playing full force and a professional Lindy Hop Dance troupe to inspire guests to boogie.
Later in the evening, after toasts to Catering Connection were made, a surprise flashmob broke out to send Catering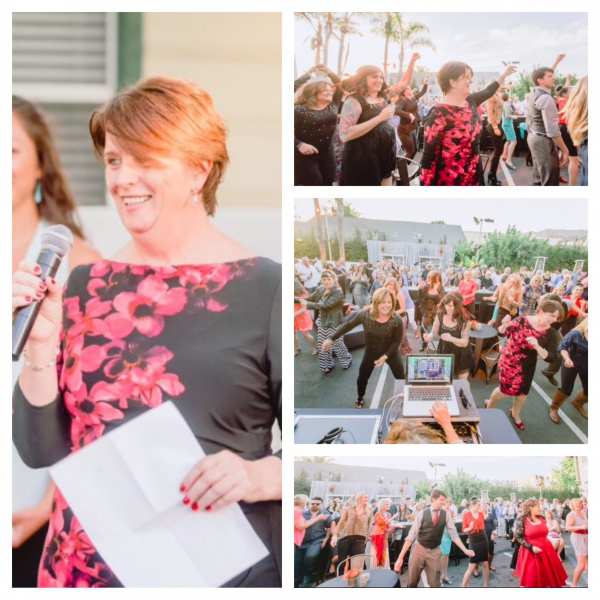 Connection off to its next 20 years.  The flashmob was comprised of business professionals who have known Ursula for years who had secretly been meeting and practicing for weeks prior to the event.  You can see a quick clip of the flashmob here.
As guests left, they took with them a momento of homemade, freshly-popped caramel corn with note that said, "Thanks for popping by", a brand new Catering Connection apron and thank you note.
For Ursula, all the pomp and circumstance doesn't go to her head, as even with family who flew over from Ireland to help her celebrate, all the press mentions on her business and booming success, she still credits her incredible team, who has been with her for years and is her family, too.  What is she looking forward to most for the next 20 years?  "Retiring!"  she said.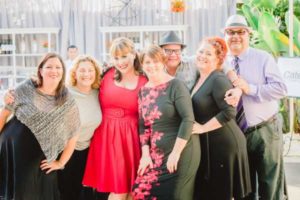 The Standing Ovation:  Catering Connection wishes to thank the amazing co-sponsors of this landmark 20th Business Anniversary Celebration:   Ventura Rental Party Center |   Bella Vista Designs | RowanOak Events | Santa Barbara Wine Country Weddings and Events | Music by Bonnie & Co | Premiere Event Production | Felici Events | Foley Family Wine (Lincourt and Firestone) | Engaging Inspiration | Blue Star Parking | and all of the amazing images capturing the soul of the event provided by Matt Roberts of Rewind Photography 
The Menu :

Hors d'Oeuvres
Chicken & Waffle with Warm Maple Syrup Dip
Spring Pea Soup with Fresh Mint with Crème Fraiche and Mint Oil Swirls
Grilled Jumbo Shrimp with Bloody Mary Shot
Roasted Sweet Tomato with Basil, Pine Nut Crush and Goat Cheese on Parmesan Edible Spoon
Basil Crusted Scallops with Citrus Aioli on Appetizer Spoons and Forks
Steak Bites with choice of Béarnaise Sauce, Chimichurri Sauce or Garlic Aioli
Mini Brie Tartlet with Apricot Compote and Sliced Almond in Filo Cups
Short Rib & Polenta Station served in Cosmo Glass
Short Rib Slow-Braised in Cabernet Sauce
Creamy Polenta with Fresh Parmesan and Chopped Italian Parsley
Ceviche Tostada Bar
Halibut Ceviche and Rock Shrimp Ceviche served on Mini Tostada with Lime, Cilantro Leaves, Avocado,Pico de Gallo on the side
Salad Station
Baby Spinach Salad with Carrots, Orange Segment, Dates, Red Onion and Pomegranate Jewels, Pine nuts and Goat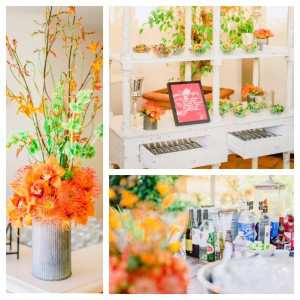 Cheese with Citrus Dressing
Green & Purple Kale Salad with Sunflower Seeds, Yellow & Red Bell Peppers, and Cranberries
Field Greens with Fresh Strawberries, Goat Cheese and roasted Santa Barbara Pistachios
Gnocchi Station
Potato Gnocchi with Choice of Sauce
Roasted Red Pepper Cream Sauce
Chicken and Gorgonzola Walnut Sauce
Late night snack:
Garlic Aioli Fries in Bamboo Cones
Pavlova Station – Make Your Own
Crisp Meringue with Selections of Toppings:
Tropical Fruit Salad
Fresh Berries
Raspberry Sauce
Mango & Passion Fruit Sauce
Whipped Cream
Chocolate Sauce
Beverages
Champagne Pom Pom
Vodka Cranberry Fizz
Firestone Cabernet and Sauvignon Blanc
Lincourt Pinot Noir and Chardonnay
Selection of Beers
A Swig of Ireland
Irish Whiskey Tasting, Guiness Bar & Irish Coffee or Bailey's Coffee