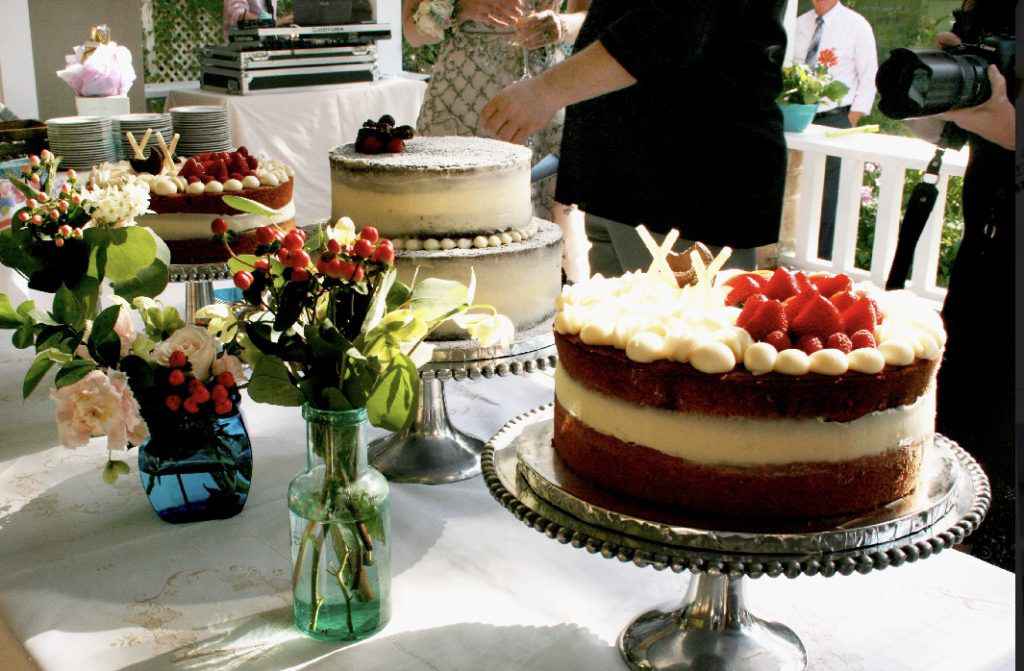 "Cake for later;  cake as a way of life, " says Laini Taylor.  And we couldn't agree more.
Jan and Taylor chose one of our favorite locations in the picturesque mountains of Ojai at the charming  Lavender Inn.  Their intimate celebration had lots of special personal touches, but perhaps the most significantly sweet detail (sorry, we couldn't resist the pun) was that this wedding was all about cake.  And  with cake being the root cause of love affairs and revolutions  over the centuries, who are we to argue with the power of cake as a defining hallmark of two people in love?
As always, the menu served was complementary to the incredible freshness of Ojai and nature all around, including the Ojai Oranges on the first course salad (and P.S. check out the way they did their table assignments – by "planet").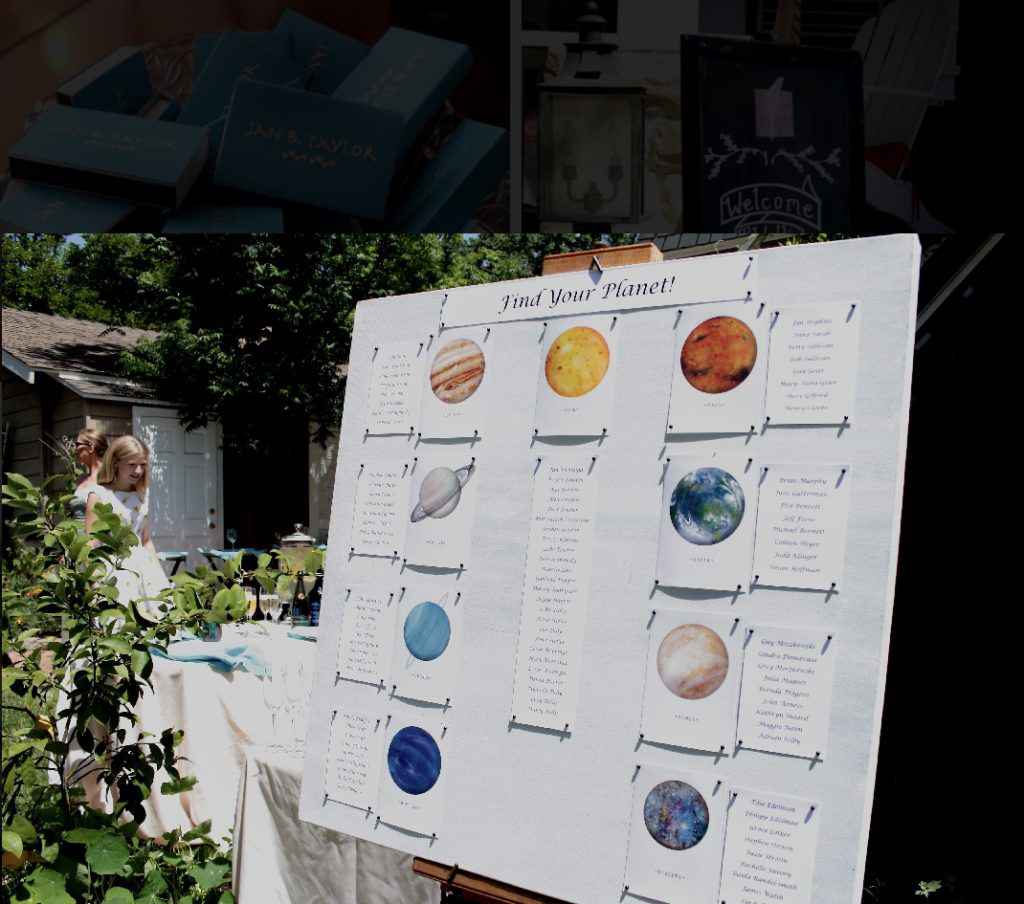 Menu Highlights: Pre-Ceremony: Vegetable Crudites with Black Olive Aiolï & Herb Dip, Crunchy Sticks of Carrots, Celery, Broccoli, Cauliflower, Cherry Tomatoes, French Radishes & Jicama | Post Ceremony Tray Passed Hors D'oeuvres: Fresh Figs with Goat Cheese on Belgian Endive with Honey Pecans and Port Wine Reduction;  Flatbreads: Parmesan Crust with Sautéed Mushrooms, Caramelized Red Onions & Candied Tomatoes, Fresh Rosemary; 1/2 with Grilled Sausage, 1/2 without |  Dinner: Selection of Freshly Baked Artisan Rolls with Butter;  Plated First Course:  Beet Salad~ Spring Baby Beets with Ojai Oranges, Roasted Walnuts and Rio Gozo Farm Green and Crumbled Feta Cheese; Shallot-Honey-Dijon Vinaigrette on the side | Family Style Dinner: Chicken Picatta: Lightly Breaded and Sauteed Chicken Breast Topped with Our Homemade Lemon & Caper Sauce and Freshly Sliced Lemons; Grilled Marinated Salmon Fillet Lemon pepper, Garlic and Pink Himalaya Salt;  Tri Color Fusilli Pasta with Garlic Cream Sauce;  Seasonal Roasted Vegetables;  Spring Vegetables with Fresh Herbs and Candied Garlic | Dessert:  Wedding Cake & Coffee (Cakes Provided by Knead Bakery) ;  Chocolate Truffle: Assorted Chocolate Truffles from Local Chocolatier "Chocolats du Calibressan"
Event Partner Team  Location:  Lavender Inn  |  Catering:  Catering Connection |  Rental:  Ventura Rental | Florist:  Forage Ojai  |  Cake: Knead Baking Company  | Chocolate Truffles:  Chocolats du Calibressan | Photographer:  Barbara Benvil | Music:  VOX  | Guitar:  Drew DeAscentis | Officiant:  Barry Taylor