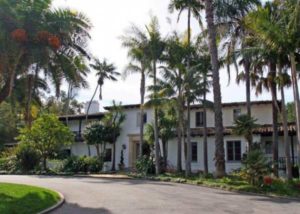 What does a 2012 Santa Barbara wedding offer that only a few select destination wedding cities world-wide can offer?  Almost all the elements of the number one 2012 wedding trend:  using nature as the inspiration by using the natural landscape as the backdrop for your wedding celebration.  Santa Barbara is loaded with dozens of natural landscape options.
2012 weddings will  be simpler, less-ornate and focused on detail.  For example, ceremony canopies (inspired by chuppas) are not decorated with over –the-top florals, but focused on swagging beautiful fabrics that are rich and decadent, using velvet runners, etc.   That's it.  No need to gild the lily.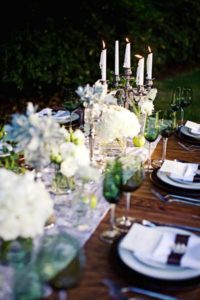 The upside (if there is one) to the challenging economy is that it has made brides more socially-aware and responsible. This translates to it being out of style to have a flashy, over-the-top wedding.  Guest counts are going down and they are focusing on quality– not quantity – and this means getting to the heart of who their closest friends and family members are and keeping the guest list simple and focused.
2012 Wedding Trends:
Using a location that one does not have to transform with "making" it work  (we've been saying this for years as one of the best reasons to have a Santa Barbara wedding).  With beach locations with Channel Island views, private exclusive estates, wineries, ranches and so much more, the backdrop is set and little is needed.  What more could you ask for?  Need help deciding on finding your ideal location for your vision and budget?  Ask your Full Service Caterer (us) !  We specialize in this and know this area.
Favors are disappearing as couples are opting to donate the money to a charity of choice or put the money into a fun entertainment aspect of their wedding which will create memories for their guests (photobooths, guest-interactive food stations, guest-interactive entertainment and much more)
Matchy-matchy is not "in". The trend for awhile has been to have centerpieces which complement each other in feel and color, but are varying heights and sizes.  Dining tables are also different shapes and sizes (some dining tables are long rectangles, some square, some oval and some the traditional round) , as are chairs at the tables.  Consider a long bench for one side of a table with individual chairs on the other side.
The reality is that "trends" are often born from necessity.  The new trend to have antique chairs actually serve as a prop to hold food on a buffet table was derived when a caterer had to improvise on display space for an event and had to use what was on hand.   Now suddenly, it's a "trend".   You can create your own trends – all it is is making something distinctly your own and having the confidence to stand behind it and not worry if it's "right" or "wrong".  Whatever your choice, if it's authentic and inspiring to you, it's always "in".