STATIONS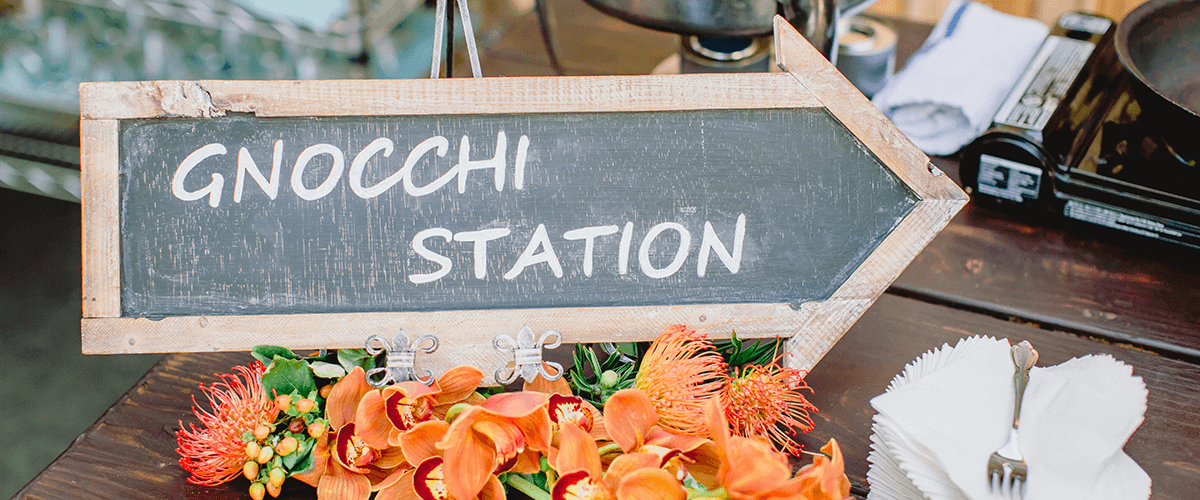 Grazing Table
Display of Artisan Cheeses, Cured Meats, Salamis, pate, Hummus (Beet and Garlic) with Crudités, Dolmades, Crisp Cornichons, Kalamata Olives, Dates, Assorted Nuts & Seasonal Fruits, Dijon Mustard, Salted Butter, Fig Preserve, Local Honey, Crusty French Breads, Lavosh, Pita and Assorted Crackers

Artisan Cheese Board
Artisan Cheeses with Seasonal and Dried Fruits, Walnuts, Fig Preserve,
Local Honey, Served with Crusty Breads & Lavosh Crackers

Flaky Baked Brie Cheese
French Brie Baked in Puff Pastry with Apricots, Farmer's Market Grapes and Strawberries. Served with Baskets of French Baguettes and Crackers

Antipasti Platter
Hand-Sliced Italian Salamis, Prosciutto and Capicola Ham, Fresh Mozzarella, Cubed Feta Cheese, Local and Imported Olives, Marinated Mushrooms, Cocktail Onions, and Large Stuffed Grape Leaves. Served with Freshly Baked Artisan Breads

Charcuterie Display
Cured Meats, Salamis and Pâté, Served with Crisp Cornichons, Kalamata Olives and Dates, Dijon Mustard, Salted Butter, and Crusty French Breads

Sate Station
Glazed Teriyaki Beef, Shrimp & Scallion and chicken Sates with Peanut Sauce
Ginger Glazed Salmon Sate, and Grilled Pork Sate with Mustard Sauce
Marinated Portobello Mushroom Sate with Herb Aioli Dip

Santa Barbara Salsa and Guacamole Bar
Our Homemade Spicy Guacamole, Traditional Pico de Gallo, Corn and Black Bean Salsa, Pineapple and Mango Salsa, and Tomatillo and Apple Salsa. Served with Tri-Color Tortilla Chips.

Hummus & Tzatziki Dips, Crudité & Pita Chips
Homemade Classic Hummus, Red Pepper Hummus and Yogurt Tzatziki Dip. Served with Vegetable Crudités and Baked Herb Pita Chips

Caprese Bar
Sliced Heirloom Tomatoes and Cherry Tomatoes with Fresh Mozzarella
Cheese, Bocconcini, Fresh Basil, Pesto, Balsamic Vinegar, Balsamic Glaze, Olive Oil, Cracked Black Pepper, Sea Salt and a Basket of Assorted Breads.
*Upgrade Items Include: Prosciutto, Arugula, Pine Nuts, Romesco and Olive Tapenade

Avocado Bar
Ripe Avocados with Fresh Lime Juice Served with Assorted Toppings:
Tuna Poke, Shrimp Salad, Crab Salad, Chicken Salad, Mango & Pineapple Salsa, Corn & Black Ben Relish, Fresh Pico de Gallo
Lemon-Herb or Spicy-Sriracha Mayo, Additional Toppings Upon Request

Tartine Station
Toasted Artisan and Crusty Breads with Selection of Toppings:
Shrimp, Crab or Chicken Salads, Thinly Sliced Prosciutto, Smoked Salmon, Sliced Avocados, Tomato and Burrata with Fresh Basil and Olive Oil, Ricotta with Fragrant Herbs and Fresh Seasonal Fruits, Freshly Made Pesto, Crushed Fava Beans, White Bean and Rosemary Hummus, Seasonal Beet Hummus, Balsamic Glaze or Olive Tapenade

By the Sea
Chilled Jumbo Shrimp and Cocktail Crab Claws with Cocktail Sauce, Freshly Shucked Oysters with Mignonette, Steamed Clams, Leche de Tigre Halibut, Mexican Rock Shrimp or Bay-Scallop Ceviches
Served with Fresh Lemon and Lime Wedges

Carving Station
Dry-Aged Prime Rib with Au Jus and Bearnaise Sauce
USDA Choice Beef Tenderloin or Sirloin with Cabernet Sauce
Roast Turkey with Cranberry Orange Relish or Gravy
Beef Flank Steak, Spinach & Bacon Roulade with Port Cherry Sauce
Cedar Plank Salmon Side with Maple Ginger Glaze

Hand-Rolled Sushi & Nigiri
Our Fresh Homemade California Rolls, Salmon Rolls, Ahi Tuna Rolls, Vegetable Rolls and a Selection of Nigiri
Served with Miso Soup, Wasabi, Pickled Ginger and Soy Sauce

Potato Bar
Hot Buttery Mashed or Baked Potatoes with Toppings:
Crispy Bacon, Green Onions, Homemade Gravy, Sautéed Mushrooms, Cheddar Cheese, Sour Cream, Mixed Bell Peppers and Pico de Gallo

Quesadilla Bar
Carne Asada, Refried Beans and Cheese Quesadilla
Grilled Chicken, Queso Fresco and Cilantro Quesadilla
Grilled Shrimp, Papaya and Green Onion Quesadilla
Three Cheese with Confetti of Bell Peppers Quesadilla
Served with Pico de Gallo, Sour Cream and Homemade Guacamole

Soft Tacos Station
Carne Asada, Braised Short Rib, Chicken, Pork, Shrimp, Fish or Vegetarian Tacos, Warm Corn Tortillas, Cilantro, Tomatoes, Cheddar Cheese, Black Olives, Green Onions, Fresh Homemade Salsa, Guacamole and Sour Cream

Ceviche Tostada Station
Leche de Tigre Halibut Ceviche, Rock Shrimp Ceviche, and Bay Scallop Ceviche with Pickled Onion
Fresh Limes, Avocados and Pico de Gallo on Crisp Corn Tostadas

Selection of Flatbreads
Whole Wheat Crust with Crisp Pancetta, Candied Tomatoes, Onions and Chevre Cheese Flatbread
Parmesan Crust with Grilled Sausage, Sautéed Mushrooms, Caramelized Red Onions and Crisp Rosemary Flatbread
Herb Crust with Roasted Tomatoes, Kalamata Olives, Fresh Arugula and Buffala Mozzarella Flatbread
*Other Options Available Upon Request

Pasta Station
Choice of Two and Served with Freshly Baked Breadsticks:
Tri-Color Fusilli Pasta with Garlic Cream Sauce
Penne Pasta with Tomato and Green Olives
Potato Gnocchi with Gorgonzola Cream Sauce
Potato Gnocchi Primavera, with Sautéed Vegetables & Freshly Made Pesto
*Additional Toppings Upon Request

Short Ribs and Polenta
Slow Braised Short Ribs in Cabernet Reduction
or
Spicy Vegetable Stew with Chickpeas, Served over Creamy Polenta

Mac and Cheese Bar
Creamy Mac and Cheese with Sharp Cheddar
Assorted Toppings May Include:
BBQ Pulled Pork, Sautéed Chicken, Chopped Bacon, Green Onions, Roasted Red Pepper, Chopped Jalapenos, Sautéed Mushrooms, Crispy Shallots, Grilled Red Onions, Smoked Gouda, Parmesan, Truffle Oil and Flaming Hot Cheetos
*Additional Toppings Upon Request
MORE SPECIAL OCCASIONS MENUS