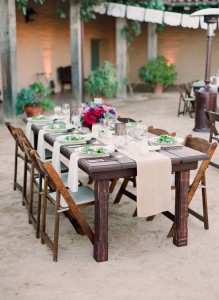 Ventura Rental Inc. is a proud, locally owned, family operated corporation serving Ventura, Los Angeles and Santa Barbara Counties for over 35 years. This third generation business came into existence in 1978 when owner Ron Holley moved his family from Modesto to Ventura to purchase a small homeowner and construction rental business originally founded in 1958. In the early 1980′s the company added the special events division known today as Ventura Rental Party Center followed by expansion to four current locations inclusive of two construction and general tool rental stores, a repair shop and Ventura Rental Party Center.
Currently, Ron Holley's daughter, Heidi Whitcomb, heads up the event rental division of the business, Ventura Rental Party Center, while Ron's son-in-law, Ted Cook oversees the construction and tool rental centers. Mike Whitcomb son-in-law, Heidi's husband and son in law to Ron Holley is at the helm of the company's IT Division, while Suzette Cook, Ron Holley's daughter and wife to Ted Cook oversees not only certification for women-owned businesses, but the entire Accounting Department.
The cumulative success and longevity of this family owned corporation is attributed simply to excellent service, and industry knowledge and awareness .The company maintains that philosophy to this day and operates on the business platform of staying abreast of the industry along with uncovering and developing industry trends. Co-owner Heidi Whitcomb is extremely involved within the special events industry having chaired the American Rental Association's Events and Tents Conference, serving on the board of the National Association of Catering Executives, International Special Events Society and various other organizations.
Community stewardship and involvement are principles that the entire Ventura Rental Team adheres to. Giving not only monetarily, but also of their time, the team is passionate about their involvement in the community. Heidi Whitcomb is passionate about local causes and serves as a child advocate for the Ventura County courts and tutors children weekly at Casa Pacifica; she also lends her talents to Food Share, local schools and many nonprofits, as well as heading up the committee to revive the now magnificent Libbey Bowl in Ojai. Ventura Rental is proud to have partnered with such organizations such as Community Memorial Hospital, American Cancer Society, Casa Pacifica Food & Wine Festival and the Citrus Classic Balloon Festival on their past and current events.
Ask Heidi what sets Ventura Rental apart from the competition and she will emphatically answer, knowledgeable, superior, customer service. "It is the most important thing we can give to our clients." states Heidi. We make it a point to assist every customer during each phase of the event, from the bridal fair to the on-site visit to the reservation changes, set up and return. Customers know that we have a representative on call 24 hours a day for their needs and appreciate our partnership.
The team at Ventura Rental truly enjoys what they do. Collectively they search for new and unique items to add to their rental inventory to make each special event stand out. "We instill a lot of responsibility and accountability in our employees and encourage then to learn, grow and to be proud of what we do." states Heidi. "Our consultants are available to offer their expertise to your event with a complementary consultation which we offer to every client."