The holidays are almost upon us and many companies and families are thinking about holiday celebrations.  Whether it's an annual company party or a family get-together where the host/hostess just want to sit back ,  relax and not worry about the cooking and clean-up, deciding what to serve for a holiday party menu can also be a daunting task.  There is the pressure to serve traditional holiday fare because many feel it's simply not the holidays without certain traditional items such as turkey,  ham and Aunt Betty's gelatin salad.
After you determine the location of your holiday party (which can largely determine the type of menu you serve: for example, some locations don't have the space to afford buffets and food stations and are more suitable for a sit-down plated menu), you can host one of the most memorable holiday parties your guests have ever  attended simply by approaching traditional holiday fare with an untraditional fun twist.  A little "outside the box" thinking with your professional , full service caterer, their expertise and culinary genius and you can provide all the holiday traditional favorites but in a new way that will be refreshing and leaving guests talking about your holiday event for a long time.
Appetizers: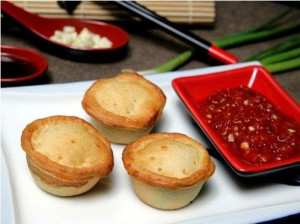 Instead of courses of soup and salad, why not include them in a passed or displayed appetizer manner?  For example, passed shot glasses of butternut squash or pumpkin soup or mini turkey pot pies is a great way to delight guests and also ensure they are enjoying some of the best flavors of the season in an unconventional and fun way.
Re-think salad on a plate.  Have a displayed vegetable crudite display with various dips and dressings and let guests fill out their appetizer-sized plates and nibble on fresh vegetables as their "salad" before they sit down.
Want more ideas?  Contact us!  We're here to help and have even more creative twists.
The Main Course
Can't decide between turkey or ham?  Can't decide between sweet potatoes or regular mashed potatoes?  Everyone has an opinion, and it's your job to try and keep as many people happy as possible.  So why not do it all – just present it in a different way.  If you are doing a plated meal, think mini-courses that offer the best of all holiday dish favorites: start off with ham, in between courses, offer a potato souffle, then pick up with a turkey dish complimented with fresh vegetables followed by an unconventional course of fresh fish or vegetarian plate.  The idea is that with these multiple courses, the portions are smaller, but it offers guests a sampling of a wide range of holiday favorites.  Not sure how and what will complement each course?  Contact us for immediate expert guidance and advice.
If you'd rather keep your guests up and mixing and mingling, then stations may be right for you.  Have fun with the stations, too.  Don't just do a buffet.  Space the various food options throughout the dining space and get creative.  Instead of just having a turkey or ham carving station, consider also having a potato bar with various types of holiday favorites: mashed, baked, twice-baked, roasted herb new baby potatoes, sweet potatoes, candied yams, etc.  For bread, have a bread station with breadsticks and an assortment of rolls, artisan breads and a variety of butter.
And dessert is one of the best parts of a holiday celebration, so why make your guests choose only one?  Offer a dessert buffet – or better yet- passed dessert miniatures or "pops" of cakes, pies, etc.  A chocolate station where guests can dip their fresh fruit or candy in a cascading chocolate fountain is an interactive, fun and memorable way to to holiday dessert as well. 
Let your full service caterer be your expert guide for some brilliantly fantastic ideas on traditional holiday menu ideas or some innovative ideas as well.