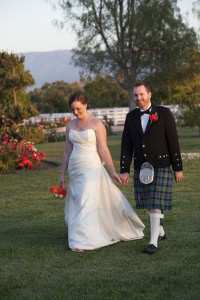 This May wedding could not have had a more picture perfect backdrop. The private home in Santa Barbara's own wine country, the Santa Ynez Valley, was setting to one of the loveliest weddings I have enjoyed being a part of . It was an amazing wine country wedding location. The bride and groom looked gorgeous and the groom's Scottish heritage was incorporated in little details throughout the celebration: from his kilt to the wedding menu itself.
The events team working this wedding included the area's best wedding professionals. From Ventura Party Rentals, Music by Bonnie, "day-of" coordination by LaFete, wedding cake by Decadence, lighting by Premier Event Design , EOS Transportation, and the talented and wonderful photographer Melissa Musgrove, this was an "all star" cast.

The Menu:
Hors d'oeuvres
Trio of Crostini, Herb Goat Cheese in Phyllo Cups, Miniature Scotch Pastries with Beef Fillings, Bacon-Wrapped Dates with Almonds, Grilled Shrimp with Spicy Orange Dip, Traditional Scottish Haggis
Plated Dinner:
Field Greens with Goat Cheese, Roasted Walnuts & Apricots
with Homemade Balsamic Dressing
Potato-Crusted Halibut with Lemon Dill Sauce served with Wild Rice Pilaf
Lamb Shank with Creamy Garlic Mashed Potatoes
Sugar Snap Peas with Teardrop Tomatoes
Photos of this beautiful event:
Check back soon – more photos from this wedding coming!